"With a lot of hard work, and the fact that I care about what I do, I think I've done alright. I'm not famous, but I'm happy."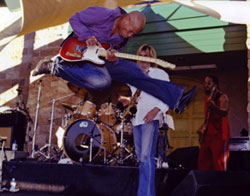 And so are we, when we hear Randy Jacobs pick up his guitar and play. And we're not alone in that. Randy is a crowd pleaser every time he takes the stage, whether he's supporting a headliner musician or whether he's doing his thing with his own band, The Boneshakers.

Randy was born in San Francisco, but Detroit his home. He began playing guitar at age 13. Although guitar is his main instrument, he plays bass and a little bit of keyboards as well. He's a self-taught musician who feels that you never stop learning your craft. "I never feel like you are done learning when you're playing guitar. I learn new stuff every day, but it's from people or situations, or music. I'm so glad I can learn." Though he's got a few family members who sing and play a little, he doesn't really consider himself to be from a musical family. "I'm sort of the only guy crazy enough to be in this music business."

Growing up in Detroit in the 70s was especially sweet for this guitar playing kid. He couldn't help but be influenced by the Motown sound. All the local musicians aspired to be the next big thing on Motown and when the label relocated to L.A., a lot of their musicians and producers didn't make the trip with them. He worked with producer Don Davis, who co-wrote "Who's Making' Love" with Johnnie Taylor. "He took a real interest in me. I worked in his studio and worked with a lot of people." He also worked with Barrett Strong, a 2004 inductee in the Songwriters Hall of Fame who did a lot of work with The Temptations and co-wrote "Money, That's What I Want." And he worked with Sylvia Moy, a 2006 inductee in the Songwriters Hall of Fame and co-writer of "My Cherie Amour." "I did one of my first sessions with her. I didn't know what I was doing. They just knew that I could play rhythm guitar, so I did some sessions for her." Straight out of high school, Randy got to work with Miles Davis bass player Michael Henderson.

Undoubtedly his biggest influences are Curtis Mayfield, who plays with his thumb, as does Randy; Earl Klugh, who, like Randy, hails from Detroit; Tony Newton, who introduced him to other types of music; Michael Johnson, who approached his playing with Wes Montgomery style; and Reggie McBride, a bass player who played with Stevie Wonder. "He's a bass player, but his showmanship just blew me away. He plays bass so great. He puts on an amazing show. I love that whole thing about him."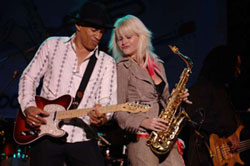 Randy is a regular member of Rick Braun's touring band and has also played with Euge Groove, Wayman Tisdale, Eric Marienthal, Guitars & Saxes, Mindi Abair, Michael Lington, Jeff Golub, Kirk Whalum, and Warren Hill. He credits Warren Hill with bringing him into the world of smooth jazz. Randy recently wrapped up a gig playing on the Dave Koz cruise, which in addition to playing with Koz, allowed him the opportunity to play with David Sanborn, Marcus Miller, and Arturo Sandoval, which for Randy was a "pretty amazing experience." Currently, he's in rehearsals to play with Down To The Bone on the Brian Culbertson All Star Smooth Jazz Cruise which sets sail at the end of January. Randy has played on just about all of the smooth jazz cruises. "It's a great way to meet people. I've become friends with so many people, people that have been coming to the shows on land, people I didn't even know. There are people that it's nice to see every year." Outside of the smooth jazz world, Randy's resume is equally as extensive. He's a former member of Was (Not Was), and has done gigs with Elton John, Bonnie Raitt, Willie Nelson, Tears 4 Fears, Seal, Iggy Pop, Stevie Wonder, and the legendary B.B. King, just to name a few. "I've learned something from [all] those experiences. There are situations that happen that you fall into. You don't know how they happened, but you have to be grateful for it all the time."

Randy has played with numerous musicians from many genres of music. Of course, he would have loved to play with Miles Davis. Through bassist Michael Henderson, he had the opportunity to meet him and talk with him. "Just talking to him and being in the same room and feeling that thing that he has, that I'm sure Hendrix had, and that Stevie Wonder has, and David Sanborn has; those God gifts that some people have, that aura, or whatever it is, that certain thing that elevates their persona. Miles was definitely like that." Also, if it were possible, he'd love to play with Curtis Mayfield, Jackie Wilson and blues legend John Lee Hooker.

Many people don't know that Randy is quite an amazing songwriter. He co-wrote the song "Wide Receiver," and as part of the 80s pop group Was (Not Was), Randy co-wrote the hit "Walk the Dinosaur." Randy released his first solo CD, From Me To You in 2005. This CD is filled with beautiful acoustic ballads, funky dance tunes, and a classic blues number. He wrote or co-wrote all 11 songs on the CD, and they are all wonderful. "I have something that I want to say, something that I want to do, with music. It was important for me to say those things that I wanted to say, that I can't normally say. I felt like I did something that was real, that had some integrity to it, and it was legitimately something that came from me."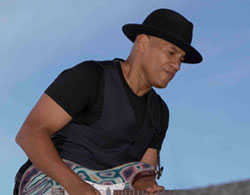 Randy's band, The Boneshakers, has been a part of his life since moving to L.A. He is the driving force behind the band. As busy as he is with his other musical endeavors, he always makes time for The Boneshakers. They play primarily on the west coast, but they have ventured to the Rams Head Tavern in Annapolis, Maryland a few years ago, and they recently finished playing on The Legendary Blues Cruise. It surprises Randy that smooth jazz fans are becoming Boneshakers fans, since that is not their core audience. They've played some smooth jazz strongholds like Temecula, Spaghettini's, and the Lexus festival to great reviews.

When not playing music, Randy enjoys writing music; however, it's not all work and no play for this talented musician. He likes to spend time with his 11-year old son, Daniel, riding bikes and playing basketball, as well as spend time with his girlfriend. "I try to spend as much time with him [Daniel] and my girlfriend as possible." The proud papa, eagerly shares a story of how Daniel scored 30 points in four different games and made a half court shot. "It was pretty amazing. I was there the day he made his half court shot. I was just knocked out. The whole place just erupted, right before half time. He just launches that thing and it went in."

2007 already looks like another busy year for Randy. He's writing more songs and hopes to complete another Boneshakers record as well as another Randy Jacobs record. He'll be playing some gigs, both here and abroad, with The Boneshakers. Look for him on the road with Rick Braun at upcoming concerts and festivals. Or better yet, just book a smooth jazz cruise.
- Mary Bentley