My introduction to Armand Sabal Lecco (ASL) came a year ago during the Bahamas Jazz Festival. Armand was a member of legendary bass player Stanley Clarke's band. I share Stanley's opinion of Armand, as being an incredible bass player. Although ASL is not a household name in the world of smooth jazz, his resume is varied and impressive, and they include, among others, Paul Simon, Vanessa Williams, Maxi Priest, The Brecker Brothers, Herbie Hancock, Manu Dibango, Ladysmith Black Mambazo, Jonathan Butler, Sting, Ray Charles, and most notably Stanley Clarke.

Armand began working with Stanley Clarke when he wrote and performed on Stanley's album, East River Drive (1993). They have played together many times since, but he did not officially play with the Stanley Clarke band until 2002. As a result of those performances, he began touring with the band in 2003 and continued into 2004.

ASL is a man of the world. He was born in Cameroon, raised in Paris. After touring with Paul Simon a few years ago, he decided it was time for a change and moved to LA. Armand comes from a musical family, inheriting his talents from his father. "I discovered, not long ago, that my father played guitar when he was young… that's what he used to woo my mother." He also has two brothers who are musicians – Felix, is a drummer and Roger, a bass player. Armand began playing musical instruments early, around age six. He began with the guitar, moved on to the drums, and finally, the bass. He can play other instruments as well.

He is a man who laughs easily and often. When asked to recall one of his first live performances as a child, he laughingly replied, "I played just when people were done playing. I'd run onstage and grab the bass, or the drum set, and just start jamming a little bit… before they snatch me off the stage. I was more worried about being caught, that I didn't really register the whole thing, but I knew something happened." That something, eventually led him to becoming a professional musician.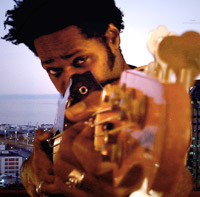 For Armand, it's not just about music, it's about life. Everything is connected, everything is related, and one thing has everything to do with another. "Wherever I go, I try to learn something, so that I'm made of it. The music has that." There is no separation between music and the rest of life – it's all a part of one whole concept. As a result, he is just as likely to find inspiration from a movie or a conversation, as he is from musicians like Miles, Coltrane, Jaco, or even Stanley Clarke.

In addition to being a talented instrumentalist with his own band, Armand is a singer and an award-winning composer as well. His compositions appeared on a Grammy nominated album by John Patitucci, (Another World, 1994) and a Grammy award winning album by the Brecker Brothers, (Out of the Loop, 1994). He is fluent in nine languages, which reflects in his music. "I can understand nine different human beings a little deeper than normal, because I can understand them in their language. So you get the true emotion of it."

Armand's band is very fittingly called The Rest of the World. When asked to describe their sound, he says, "It's a mix of glamour and gutter. Let's say its Bob Marley meets Jimmy Hendrix, at a Miles Davis concert. All the things I've talked about, and all the things I am about, and all the things I've learned, that's what's in The Rest of the World."

As a musician, Armand is surprisingly visual, and composes a lot from images. "I start with images. It's an image that I describe. The particular details of the image are going to dictate the language for me, or the color, the imagery of the text I'm going to write."

Although he is talented in many areas, he feels most comfortable with the bass, and knows his job well. "To be a bass player, you have to understand. You have to learn to listen. Harmonically, the bass gives the name of the chord. So, if you change the name of the cord, you change the emotion of what you're playing, of what the music sounds like. Therefore, you have to be really in touch with what's going on, and listen. Every musician, every person, just needs to listen to other people. To help other people sound better, to help other people feel much more comfortable. When you do that in life, they give you the same thing. So the whole vibe gets to a better place." Once again, his philosophies extend beyond the boundaries of music, and into life itself. Expression takes precedence over performance. "People have to be able to meet their emotions, that way, they can express themselves properly. When something has to be expressed, I don't try to bend it, or control it, and make it sound or look pretty so I can present it."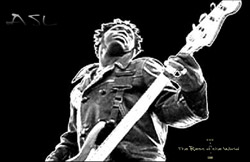 At times during our conversation, he uses his sense of humor to make light of himself, but underneath the humor, lies a man who takes the creation and expression of his music very seriously. "All I do when I walk on stage and in life even, I try to get out of the way. When the higher spirit… is trying to say something… they say when your muse speaks, shut up… You get out of the way and let it happen. That's where I try to be with music and with people. That means you don't involve the ego. You just let your muse speak."

Armand recently completed work playing his bass on the actor/singer Robert Downey Jr.'s album, The Futurist (November, 2004). He will be with Robert doing some television promotional appearances. Armand can also be seen as part of Stanley Clarke's band, and, with his own band, The Rest of The World, when they begin their European tour in January.
Mary Bentley