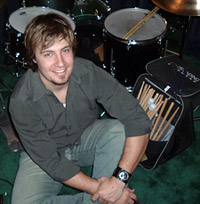 He's young, he's hip, and he is oh-so-talented. Drummer Jamey Tate is one of the hottest drummers in the up-and-coming set of side musicians. From smooth to straight-ahead jazz, from orchestral to big bands, this 27-year-old has not at all pigeon-holed himself into any one type of music.

Raised in Florida, Jamey was blessed with artistic DNA and comes from a very creative family. "Dad's a musician… guitar player. Mom's an artist and model. She's modeling now, which is pretty cool. Sister is a dancer. Everybody is involved in the arts." Jamey got his first drum set when he was three and is a firm believer in the instrument picking you rather than you picking the instrument. "I never said, 'Daddy, I want to play the drums.' It just sort of happened." As for playing other instruments, Jamey notes, "My undergraduate degree was in classical percussion, so I can play tympani. I also play enough piano to write music, and am kind of mediocre on a lot of other instruments."

After making his way through the Florida Public School system, Jamey headed to Rollins College in Winter Park. This would prove to be a pivotal step in his career. It was at Rollins that Jamey studied with percussionist, Beth Gottlieb, and later with her husband, Danny Gottlieb, drummer for Pat Metheny. But ultimately it was his meeting Peter Erskine, famed drummer of the Stan Kenton Band and Weather Report that changed his life. "He came to Florida to do a clinic at Rollins College, where I did my undergraduate study. He came in and I was put in charge of shuttling him around because I was sort of the resident drum set guy. I thought, "Hey, this is so exciting. I get to hang with Peter." And he was just the nicest guy. We talked and I told him that I was going out to do the Disney All-American College Band in Anaheim, and I said I was going to be out there for about three months and asked if I could get a lesson from him. He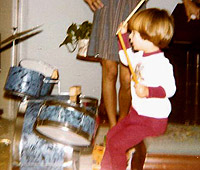 said, 'Sure, you can come take a lesson.' The next thing you know it was seven years later and I was still studying with him. We really hit it off. I think it is really important for any young musician to have a teacher that they really resonate with. I mean there's a million great teachers out there, but there's always at least that one that really speaks to you. And he was definitely the one. And again, I have had a lot of teachers that I resonated with, but Peter really was able… from moment one of the lessons where he was pulling me apart by the limbs; I was loving every second of that. He was saying, 'We're going to break you down to nothing and rebuild you.' And I was thinking YES!"

After college, Jamey relocated to Los Angeles and received his Masters degree in Jazz Studies from USC. "It definitely gives you the ability to teach on the college level," Jamey notes, but doesn't see himself teaching anytime soon. "I am so busy with touring, working in the studio and other things, but maybe in the future when I don't want to be touring all the time. I would have that to fall back on. And then, you never know what could happen to me. I could get injured. I could not be able to play for some reason." The teaching may not have been what he was after, but the schooling did boost his career. As a result of USC, Jamey got the job as drummer with pianist, David Benoit. "I was playing a USC performance. In one night, David Benoit, Horace Silver, and Louis Bellson all walked in. Here I am playing and I've got Louis Bellson staring me in the face. And I am thinking, 'Please don't mess up.' Just as I was getting ready to leave, David walks up and says, 'Hey man, you play wonderfully. Can I get your number?' That was about a year ago and I have been playing with him ever since. Shortly after David called me, Mindi [Abair] called me. I've known Mindi for a long time, basically since birth. I mean, our parents have known each other since before either one of us were born!"

One of the things that Jamey prides himself on is not being the kind of drummer who can only play one type of music. An example of this is his current simultaneous tours with David Benoit and Mindi Abair. He cut his teeth on big band, growing up as a big band, straight-ahead jazz drummer, but sharing a love of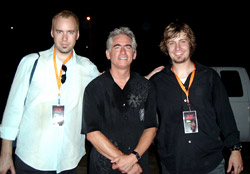 orchestral music with Benoit. "I love the opportunity to play such different stuff. My musical influences are so varied, from Miles to Jeff Porcaro [of Toto]… just vast differences in what I listen to, including orchestral music. So with David, I get to explore more sensitive music. With Mindi, I just get to let loose!" In fact, Mindi, when asked to describe Jamey's playing noted that "he's always sensitive to the music, listens, creates with everyone on stage, and he can rock the house!" Jamey has also ventured into different areas of his creativity and has been featured in a few movie scores, something he would like to do more of, and is also working on a jazz CD with American Idol finalist, Justin Guarini.

But don't think that this up-and-comer is all work and no play. When not touring or in the studio, Jamey might be found tackling some of the California mountains on his mountain bike with fellow musician and close friend, Katisse Buckingham. "He is one of my closest friends. He took me mountain biking. Sounds a bit odd because you can really hurt yourself… not good for a drummer. Plus, I am this Florida kid who had never seen mountains. I mean, I sit by a pool! But now I am hooked." If not biking, then perhaps he is in his wood shop doing carpentry, or writing music, or engineering in the studio at his house.

Whatever it is that Jamey Tate is doing, you can bet that he will take you along for the ride. His outgoing personality is infectious, and his talent and experience are well beyond his years. Keep your eye on this drummer. You'll be seeing a lot of him for many years to come.

Check out www.jameytate.com.
- Bonnie Schendell