The Washington, DC area is a breeding ground for a lot of musicians. And there are many of them that, after paying their dues in the local clubs, make it to the big game. One of those musicians is guitarist, Stanley Cooper. While his smile and heart are as big as Montana, his talent far exceeds that. These days Stanley can be found touring with Jimmy Sommers.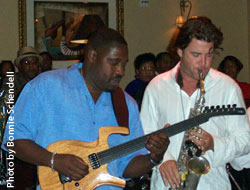 Born and raised in the Washington, DC metro area, Stanley started playing guitar when he was 13 years old. "As a young fella', I'd always been attracted to the guitar and tenor sax equally. Up into my teens, I was already playing the guitar, [when] I got hold of a tenor sax, but couldn't do diddly squat with that thing!" Stanley is self taught on the guitar with respect to the mechanical and physical aspects. He worked hard on his craft by studying the music, recordings, and performances of "all of the greats and no-so-greats that I've had the pleasure of experiencing in my lifetime." In addition to the guitar, Stanley plays enough bass to write and record with, some keyboard, and can sing.
When it comes to influences, Stanley credits the deans of the 6-string, like Paul Jackson, Jr., Eric Dale, Wes Montgomery, and Scott Henderson. "Add a touch of Wah Wah Watson and Jimmy Nolen to that mix and you'll see exactly where I'm headed with my thing." Since Stanley did not come from a musical family, he is hoping to pass down his love of the music and performing to his nine-year-old son, aptly named Louis Montgomery Cooper "after Louis Armstrong and Wes Montgomery. He is on his way to being a drummer of some repute, provided his grades stay up!"
Stanley honed his talents in many of the local DC hot spots, which led to his touring with some nationally known artists. He has played with such notables as Jimmy Sommers, Gregg Karukas, Marcus Johnson, Jaared, Bobby Lyle, Mike Phillips, and even Stephanie Mills. With a huge grin, Stanley notes that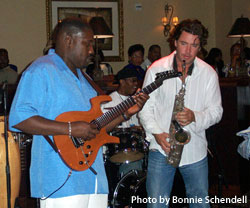 "I got this sideman thing down pretty good, I guess!" His dream sideman job, though, would also include playing alongside George Duke, Jeff Lorber or Marcus Miller. Stanley loves getting to know the crowd he is playing in front of and regularly interacts with the crowd. "When the gig is hot, I'm ridin' the wave and getting my two cents in. When the gig is not, I'm diggin' deep within myself to help my friends." But Stanley also looks fondly upon his start and the first live performance he ever played. "It was with a go-go band. We spent so much time in the basement (literally) rehearsing, that it was a huge pleasure and a relief to finally perform for an audience…and get paid!" [Side note: Go-Go music is native to Washington, DC]
One of the local DC area spots that Stanley can be found when not on the road is The Fish Market in Clinton, Maryland. This local restaurant has a huge following of its house band, and Stanley is part of it whenever possible. But Stanley is not the only notable that drops in there. Gary Grainger, bass player extraordinaire, can also be found Standing next to Stanley on many nights, as well as other musicians who come on over after their own gigs, and sit in with the band. On the rare occasion that he is not playing somewhere, Stanley enjoys playing chess, going to movies, skiing, jamming with other musicians, or surfing the internet. "I'm a freak for electronic gadgets. If it's just the slightest bit useful to me, I can justify having it!"
Looking to the future, Stanley Cooper is getting ready to do a project of his own and use some of the musicians that he has been backing. So, if you want to catch a top-notch guitarist who overflows with personality, be sure to drop in on a show with Stanley Cooper.
- Bonnie Schendell