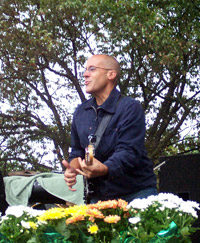 The energy of a musician is what feeds the crowd. Watching any musician really get into his music, into the groove of the band, gets the audience on their feet and in the mood to party. Over the last several years, John Menzano has proven himself time and time again to be a mood-setting musician.

Tours with Brian Culbertson, Dave Koz, Rick Braun, Peter White and others in recent years have brought this magnetic bass player to the forefront. His high energy and passion for the bass have fit in well with the electricity of the headliners he is playing alongside. Who knew that so long ago John was a drummer?

Born and raised in Philadelphia, into a family where drums were the instrument of choice by his two brothers, John was given his first set by his grandfather. He continued with the drums through grade school, even playing in a drum corps in New Jersey. But his Dad's old bass lying around was soon picked up and his teacher became the records he played along with. "The first song I learned was Boogie Oogie Oogie, and my Dad said, 'what are you doing slapping those strings?' That's how I learned. I played by ear." His first gig was in his brother's garage band.

Those early years on the bass were influenced by the sounds of rock bands like Led Zeppelin, Rush and Yes. Philly was a great town for concerts, and John made a point of being at all he could, dreaming of his day on the stage. Early gigs with Mary Wells, the Coasters, the Drifters, Sheena Easton, and Three Dog Night set him on his way. But other great talents, such as Stanley Clarke, Earth, Wind & Fire, Rocco Prestia, and of course, Marcus Miller soon became major influences on the direction that John's music would take.

Playing the Maui Music Festival in 1995 was a special memory for John, and shows how in demand this bass player is. "In one afternoon I played with Jeff Golub, Brian Culbertson, Rick Braun and Peter White." Then came the Playboy Jazz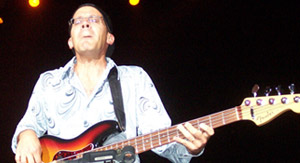 Festival where "Hugh Hefner was in the front row groovin' away." John speaks of these memorable moments with such gratitude and enthusiasm; the same enthusiasm he shows his fans while on stage.

With all of the amazing talented artists that John has been fortunate to play alongside, he says that "A nice pop gig would be nice, [like with] Elton John or Peter Gabriel. Or to be a part of a band like Spyro Gyra." While waiting for that nice pop gig, John has been busy with his own CD and has several tracks already completed. The CD will feature fellow smooth jazz musicians Michael Lington, Peter White, and Everette Harp.

John has been busy in other areas of his life as well. Last August he and his wife, Alecia, welcomed their second child, daughter Mia, who joins five-year-old son, Nick. "I am such a homebody. I love being a Dad," says John. Even though he loves being a homebody, his fans are forever grateful that John spends so much time on the road giving them memorable moments.

Thank you, John Menzano, for being On the Side.
Bonnie Schendell