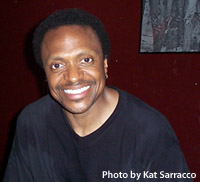 "I will always support the person who is out front, whether it's a vocalist, or whether it's an instrumentalist, because it's not necessarily about people seeing me, or realizing that, 'Hey, the drummer can play.' It's about them saying, 'Man, that song sounds good.' And if I'm doing my job, then that's the way it should come off."
If there is such a thing as a music gene, then drummer and percussionist Greg Grainger has surely inherited it. He comes from a family of musicians, starting with his father and including his talented bass player brother, Gary. "There are six of us. Everybody's musical. It came from Dad. Dad is the musician. He played trumpet. Everybody had to do piano lessons. He gave the lessons, and everybody played an instrument. Music was a natural, it was a given. I heard it all the time. [It was] always around."

Greg attended Morgan State University, and majored in music, but didn't really want to teach. He wanted to play. "I was doing it, but I wasn't feeling it. You don't really learn how to play until you're out there and actually start playing."

Greg began his professional music career as a percussionist in a band called Pockets, along with big brother Gary. He trained as a drummer, but the need arose for a percussionist, so he learned percussion and joined his brother in the band.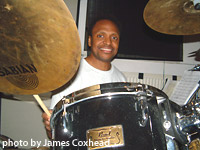 Greg counts his family members as his primary musical influences... his father, his older brothers, and especially his sister, who he describes as a fantastic drummer. "She played them back when it wasn't proper for a female to play drums. She was bad because all of those drummers that were in my brother's band were getting lessons from her." In addition to the family, he credits his music teacher -- the same teacher he's had from elementary school, through middle school, and high school --as being another strong influence on his early musical education. He considers himself fortunate having grown up in Baltimore, surrounded by a rich musical history and a wealth of home-grown talent. "Coming up, Baltimore was a scene where people would go out and hang, and the older cats would kind of take you under their wing if they thought you were sincere about it. And then, eventually, hanging out, you start to meet other musicians. A lot of musicians come from Baltimore, drummers especially." In his early days of "cutting his teeth," Greg hung around local Baltimore clubs like The Birdcage and The Sportsman's Lounge, where he would watch, listen, and learn from local, seasoned jazz musicians like Jimmy Wells, another huge influence in his musical progression. Jimmy Wells and the other Baltimore musicians taught him many valuable lessons that, to this day, he still remembers and uses. "Always come prepared. If somebody gives you something to learn, you don't just learn your part, you learn the other people's part as well. There's a certain approach and little things that you listen for, and certain ways to do things. You do pick up the real thing from the streets and from playing and from people passing certain things on also. I mean, they teach you the right way in school, but it may not be the right way on a gig. And that's what these cats were teaching me."

Versatility is the key to success for a professional musician, and Greg plays in many genres. Though he's most recognized in the smooth/contemporary jazz genre, he also plays in R&B bands, gospel, funk, and most recently in the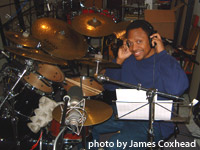 band with local guitar maker Paul Reed Smith, where he played with the legendary Carlos Santana, as well as Dave Navarro (Jane's Addiction), and contemporary jazz guitarist Al Di Meola.

The primary role of the drummer in the band is to keep time, and Greg understands his role very well. "The drummers' first job is to keep time. Along with keeping time, the second [job] is to add dynamics and accent certain things. The drummer, along with the other musicians, helps to color the song." How Greg chooses to color those songs, his approach to his role is what continues to make him an in demand player. "I'm hoping I bring uniqueness, that I bring musicality to it. I don't just approach my part just by playing rhythms. I try to play dynamically and musically with the other instruments."

In addition to his work as a drummer and percussionist, Greg writes music and does production work as well. Grainger was nominated for a WAMMIE (Washington Area Music Association Award) for Best Contemporary Jazz Duo or Group in both 1997 and 1998. They won the award in 1997. Hillview, the production studio that Greg and Gary own, was nominated for a WAMMIE in 1997 as well, for Best Recording of their Grainger CD, Phase I.


Most notably, Greg is the drummer for Acoustic Alchemy. He joined the band by chance when a drumming vacancy occurred in September 2001. The band was stateside finishing up the fall portion of their tour, and they were in need of a drummer to fill in at the last minute. He received a call from Acoustic Alchemy bass player Frank Felix, whom he met several years earlier on another gig. Luckily, Greg was available to play. Shortly thereafter, he was contacted by Acoustic Alchemy's management. Because of the 9/11 tragedy, he was unable to get with the band for rehearsal, however, his talent and training enabled him to successfully complete the tour, and eventually earned him a spot in the band. Greg's resume includes playing with, among others, Maysa, Ken Navarro, Blue Magic, Peaches & Herb, After 7, Whitney Houston, Lonnie Liston Smith, Nelson Rangell, Richard Smallwood, Kim Waters, and Grainger, the band formed with his brother Gary.

In between his busy schedule, he hopes to complete another Grainger project this year with his brother Gary. He also wants to do more production projects. In the meantime, look for Greg on tour with Acoustic Alchemy beginning in late May, and with Kim Waters as well.
- Mary Bentley
For more information on Greg visit: www.greggrainger.com