"I wanted to be a real individual as far as percussion is concerned. I wanted to make my sound an integral part of the music."
For nearly 40 years, Don Alias has been adding his unique sound to the music of some of the best musicians in the world. His resume includes playing with Jaco Pastorius, Quincy Jones, Roberta Flack, Dizzy Gillespie, Chuck Mangione, Nina Simone, Chick Corea, Joni Mitchell, Mongo Santamaria, George Benson, James Taylor, Al Jarreau, Miles Davis (and recording on the legendary Bitches Brew album) and playing as a member of the David Sanborn group for the last nearly 16 years. This is where I had my introduction to the talents of percussionist extraordinaire, Don Alias.

To hear Don tell it, he was never supposed to become a musician in the first place. Had he followed his family's wishes and not his heart, he would have been employed in the medical field. "I had no idea, no thoughts of playing music. Didn't study for it. Nothing. I wasn't even encouraged by my family or anything like that. I went to school to study medicine, to become a doctor. The family wanted you to have a good profession. There was a lot of calypso music around the house. I could dance, but as far as music being a part of the life, no way. They didn't want us to do it." Don attended college on a basketball scholarship. He switched schools and majors, choosing instead to stay close to the medical field and major in biochemistry. While attending school in Boston, Don commuted to Providence after school and worked to play some gigs.

Unlike a lot of professional musicians, Don was not formally schooled in music. "I studied on the streets of NYC. I grew up with a bunch of black guys who were interested in playing Afro-Cuban music. We were not Spanish. We spoke no Spanish at all, but back then it was musically a very fruitful time, especially growing up in New York because you were privy to three types of music… one of them, of course, was jazz. The other was doo-wop, and the other was Latin, what they would call salsa. The black community was a great supporter of salsa music because we knew how to dance that stuff. Central Park was one of the stomping grounds for the conga players. On the weekends, we'd go out there and play. You're exposed to that kind of stuff. That's what we used to play in the streets. We got pretty good at it."

So, at what point did Don decide to leave the world of medicine and biochemistry behind and become a professional musician? "I went to work one morning and I sat down in front of all those test tubes, and I asked myself a question. 'What is the one thing that gives you the most happiness – that makes you feel best?' Of course, it was playing music." And he's been playing ever since.

He co-founded a band with bassist Gene Perla called Stone Alliance, which also included saxophone player Steve Grossman. Don describes their sound as "a Latin-oriented, rock and roll, jazz group." Over the years, there were others who recorded with the band, including keyboardist Jan Hammer, and sax players Michael Brecker, Kenny Kirkland, and Bob Mintzer of The Yellowjackets. Stone Alliance recorded four albums together, and toured Europe and South America before disbanding. As luck and timing would have it, some of their material will be re-released in the near future.

Although he can play many different styles of music, Don is a salsero, one who specializes in playing Latin/Afro-Cuban and tends to keep elements of it in his playing, regardless of the musical style called for. "That style lends itself more to adapting, definitely. By just altering maybe the feel or maybe a beat here and there, I could alter it to play rhythm and blues, jazz, or rock and roll." His percussion set-up is customized and elaborate and includes, but is not limited to, timbales, bongos, conga drums, bells, and a table full of miscellaneous hand percussion instruments. Just about anything can find its way onto the miscellaneous hand percussion table because… " A real good percussionist can get a sound out of just about anything. I remember having a jam session one time and playing a radiator because it had a particular sound. It was conducive to what was going on. I'll tip my hat to a couple of guys, Airto Moreira and Nano Vasconcelos. They really brought about the hand percussion sounds. Airto is famous for having all kinds of weird [stuff] on his miscellaneous percussion table. I can't even describe some of the stuff. He uses a garbage can cover, steel bars from someplace, the inside of a tire, and when the roadie breaks his stuff out and starts assembling it, it looks like Sanford & Son."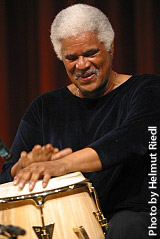 It's important to note that within the world of Afro-Cuban and Latin style percussion, if you're not of a Latin/Hispanic background, it's not always easy to be accepted into that community. "You would definitely have to prove yourself if you were not a Latin or exposed in the Latin culture. It had nothing to do with race. It was where you were from and what you'd been exposed to. You have to know the language. If you're not hip to that language, the style, and whatever knowledge you need to know about this music…if you're not into it, then goodbye! See you later!" Don recalled a story from when he first began playing, around age 15. He sat in with some very seasoned Latin percussion veterans and one of them gave him some advice. "I'll never forget these words. He turned around to me and said, 'Hey man. Stop playing. Just listen.' That was like, 'Get it together or you can't sit down with us." And over the years, Don has perfected that sound into what you hear today.

Traditionally speaking, the percussion in a band is largely supplemental in nature. Perhaps the reason Don stands out in the field is because he's never seen his role that way. "Here's one thing that I've shied away from – was just being a percussionist in the band. For my money, you can get Joe Schmo to do that. I wanted to make my sound and the sound of the percussion, and my playing, to be a real definite part of the music, just like a bass or a piano. In other words, hire me for the sound I can add to the music." To say that Don has succeeded in this endeavor is an understatement. His sound is unique and recognizable the minute you hear it. For that reason, he has been and continues to be an in demand player working with the best musicians in the world.

The Arts Council of England chose to honor his many years of playing percussion by organizing a crème de la crème jazz band of Don's own choosing. He chose The Brecker Brothers (Randy – trumpet, Michael –sax), Gil Goldstein (piano), Paco de Lucia (flamenco guitar), Carlos Benavent (bass), Rich Stein (guitar), Giovanni Hildago (percussion), Steve Berrios (percussion), and Alex Acuna (drums, percussion). "The Arts Council, they were financing the whole thing and they asked me to do a tour of England for about 2 weeks and I will say, [it was] the highlight of my life. The musicians that played on it know it was something special, something great. We know it. The people that went to see it – we got rave reviews. They know it." These concerts were recorded, but have not been released.

So what does the future hold for Don Alias? "I've managed to play with most of the people that I've wanted to. I didn't think that it would ever happen. And up to this day, no complaints. I've had a wonderful career." Don continues to have a wonderful career. Currently, he is on tour with the David Sanborn Group. He will soon focus on re-releasing the Stone Alliance recordings, and is working on getting the music from the Arts Council of England tour released. In addition, Don and longtime friend and Stone Alliance co-founder Gene Perla will write an autobiographical book documenting their lives and musical experiences in the innovative jazz-fusion era they came of age in.
- Mary Bentley
Photos by Helmut Riedl