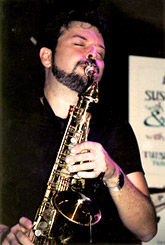 As one of the premier saxophonists in the Washington, DC area, nationally recognized recording artist, Jaared Arosemena, remains one of the busiest musicians in the business. Over the years, Jaared has played with a myriad of artists and has achieved major recognition.

Born in Washington, DC, but raised in the rural countryside outside of Roanoke, Virginia, Jaared suffered from pretty severe asthma, and picked up the sax as a form of therapy. "I started on alto sax when I was 6. I was originally influenced by a sax player named Skeets Herbert, who played in the Lawrence Welk band. That was the first time I ever heard a sax. Then I started listening to Boots Randolph, Ace Cannon, and Stan Getz."

Continuing with the sax but also picking up the flute, piccolo, clarinet, oboe and other wind instruments along the way, Jaared proved to be an all-county, all-state and all-national sax player before he reached his 18th birthday. It was after high school that he moved back to the DC area to pursue his dream. "When I moved back to Washington, DC, I was introduced to the music of David Sanborn. That was it. That was all I needed to know that playing the sax was what I wanted to do."

And do it he has. Jaared has released two solo CDs. His first, Foreward, was released in 2001, and was an acclaimed success. His second and most recent CD, Hang Time, released in 2002, proved that the success of his first CD was no fluke. And appearances of musicians such as Peter White and Ken Navarro only added to appeal and radio play of several tracks. Jaared was also recently featured on the Jason Miles produced, Maximum Grooves' Coast to Coast CD. And his own band has had two WAMA (Washington Area Music Association) Award nominations, but it was a nomination for Best New Artist at the 2002 Smooth Jazz Awards that catapulted this rising star into the spotlight.


It was that award nomination that caught the eye of guitarist Peter White. Jaared has been touring with Peter for a few years now, performing all over the U.S. and England. Recalling one of the earliest shows he played with Peter, Jaared noted that, "It was my homecoming. It was in front of about 25-30,000 people at Bull Run Park [Capital Jazz Festival] in 2002. What a GREAT experience that was."

In addition to Peter White, Jaared's touring credits have included shows with Rick Braun, Kim Waters, Jonathan Butler, Richard Elliot, and Maysa. He has opened for artists such as Bobby Caldwell, Spyro Gyra, Norman Brown, Oleta Adams, and Fattburger, and has co-headlined with a long list of spectacular artists including David Sanborn, Boney James and The Rippingtons. Still, Jaared notes that there are other artists he would love to play with like Sting or Elton John. "I love their music," he says. "I'd also love to play with Brian Culbertson, Jeff Golub, or Joyce Cooling, among others."

Jaared's easy but powerful sax playing is a total experience. He tends to put his whole self into each and every performance. When asked where his mind is while playing, he offered, "I'm really not thinking at all. I'm kind of on auto-pilot. Music, to me, isn't about thinking…it's about emotions… [like] that visceral feeling you have when you love someone, or when you smell something good, or when you put on comfortable clothes. It's a feeling…a heartbeat. That's what music is to me."

Over the years, Jaared has built quite a following of fans, both here and abroad, and is always gracious and giving of his time to them. One young fan, Amanda, particularly stands out for him. After one of his earliest shows, she and her family came to a meet-and-greet, only to find out Jaared had already left. She began to cry. Jaared's mother was standing nearby and told her to give her the CD jacket and she would be certain to have him sign it and send it to her. "It moved me so much that not only did I sign the CD cover, I wrote her a personal letter and gave her a poster. I told her that no matter where I performed, she was always my guest."

For Washington, DC area fans, this sensational sax sideman can be seen performing at local clubs when not touring. Or you might be able to catch him at his favorite sushi bar! Wherever it is, you will not be disappointed by the talent and emotion of Jaared.

This month, Jaared will be performing at the 15th Annual Berks Jazz Festival as a featured guest with Peter White and at the 15th Anniversary Concert.
- Bonnie Schendell
For more on Jaared visit www.jaared.com.