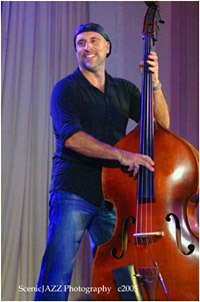 "I was born to be a sideman and I'll probably die a sideman. But, hey…that's just fine with me. If I can play and write, I'll always be happy."
Brooklyn born, L.A. based, and world influenced. That is the only way to describe bassist, Roberto Vally. Each of these facets of his life has had a profound effect on his direction and playing.
Roberto grew up in Brooklyn, NY. His mother was an amateur singer and his father was a dreamer of one day becoming a musician. Both of his parents encouraged Roberto to pursue his interest in music and he started studying a little bit of piano at home. "My father always wanted to be a musician. He grew up in Italy, and between wars and a lot of kids in his family, he never had the finances to get involved in music. But I have to thank my father for being the wind beneath my wings in terms of having the financial means and letting me grow up and follow my passion." Growing up in New York gave Roberto the experiences and the foundation to build upon.
In fourth grade, Roberto picked up the bass fiddle and played in his grade school orchestra. His teacher recognized his talent and informed his mother that he had perfect pitch. "I had no idea what that was," notes Roberto. "I just knew that I could walk back from school and play the piano and sing in the same key that we had done at school." At about 11 years old, Roberto got his hands on his first electric bass…and things took off. He started off playing bass in a little band in the garage. He and his buddies would play the local block parties, bar and bat mitzvahs, and Sweet 16 parties. In junior high, his music teacher suggested to Roberto's parents that he attend the High School of Music & Art. That was where he met the likes of Omar Hakim and Marcus Miller and was soon on his way.
Early influences of Roberto, besides his music teachers, included Paul McCartney, Peter Cetera, and Robert "Kool" Bell of Kool & the Gang. "Then I heard bassist Paul Jackson, Stanley Clarke, and Jaco Pastorius and really went into a tailspin. I wanted to be a musician, but never knew if I could ever hold a torch to those guys." About 15 years ago, Roberto relocated to Los Angeles and began building his impressive resume. He has played with Michael Franks, Bobby Caldwell, Paul Brown, Boney James, Boz Scaggs, Arturo Sandoval, Michael Lington, and Randy Crawford. Besides his playing, Roberto also takes great pride in his writing abilities, and his credits can be found on any number of CDs you might pick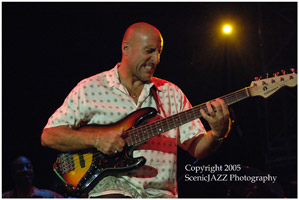 up these days. Roberto's musical endeavors range from smooth jazz to Latin grooves to reggae music and beyond. "I think that as a musician, that playing different styles helps and strengthens the other styles. It'll make me play the smooth jazz music in another way. Even if I go out and play a wedding and play a variety of music and put myself in that music, it is all interconnected. Maybe I am diluting my jazz branch, but that's okay. It's almost like adding different spices to a plate of food and knowing what to add and having the wisdom to take a risk, but not too much of a risk, because…well, cinnamon and garlic might not be so good together, but maybe just a touch of cinnamon might work. But if I put equal amounts of cinnamon and garlic, it'll probably suck! Or it could enhance it!"
When not making music, Roberto can usually be found romping with his kids (he is Dad to four) or out catching some waves on his surf board. "I have already started taking the little ones out on the long board with me, and they can almost stand up on it now." If he's not outside, then he'll be in his kitchen…or anyone's if he's allowed… cooking or watching chefs. Roberto said he learned by watching his mother cook, and is a great improviser.
Roberto remains a very in-demand player and writer. Most recently his writing was featured on the latest Jeffrey Osborne CD. Look for Roberto Vally just about anywhere smooth jazz is played and heard. If you haven't seen him yet, just wait…more than likely he'll be alongside any of your favorite headliners
- Bonnie Schendell
photos by ScenicJAZZ Photography