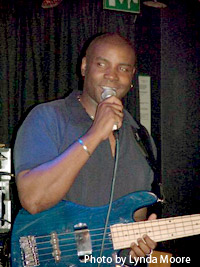 "The people who have only heard me play with Acoustic Alchemy haven't really heard the real me."
So, who is the real Frank Felix? Acoustic Alchemy fans have heard him play, and no doubt recognize the tall guy standing there in the back with his bass. They may even have seen him dance on occasion, as the music moves him, but what do they really know about the one dubbed, The Funkmeister General? When you hear Frank play with Acoustic Alchemy, you're only scratching the surface. There's more to this talented musician then meets the eye. With that in mind, Smoothviews would like to introduce the real Frank Felix.
Frank is a native of England, a born and bred Londoner. Except for the time he was away at school, he's spent his life living and working in London, and has been a part of the London music scene for many years.
Before there was music, there was football, what we Americans call soccer. "I always did a lot of sports. I was picked by scouts from my local professional team. I was alright. I used to train there twice a week. I think I was maybe 14 or 15. I always wanted to get into school to be a footballer, but I suppose every kid wants to be a footballer." But then, he discovered music. Frank began playing trumpet in his school's marching band, but didn't keep it up. In the late '70's, punk rock was the rage, and a lot of punk bands were forming in his East London neighborhood. Some of his close friends decided to take up the guitar and form bands. "We played this really rotten music, but I thought, well, if he could play guitar, I must be able to play guitar." So, the guitar changed everything. "From the time I started guitar, I was obsessed. Even the thought of playing football wasn't that interesting anymore."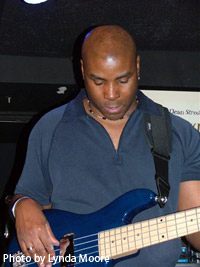 When asked about his first professional gig, Frank laughs when recalling the story. "The first band I formed, which I think may have been called Unit One, was a bunch of school friends. We played at the local youth center, two blocks from my house. We were carrying a Fender Rhodes down the street. In those days, all gear was heavy. I had a Fender and two 12' speakers, really heavy, struggling along the road. After the gig, we carried it all back. I think we got paid the sum of £10. There were about eight of us. I think someone came and stole a supermarket trolley, so by the time of the next gig, we had a trolley or two to wheel [the gear.]"
Frank is primarily a bass player, but along with the bass and guitar, he plays drums and keyboards as well. He is also has experience in musical direction. "If somebody is playing too much, or, if I think things could work better this way, I'll make some suggestions. I find my ears are good – somehow tuned into that, particularly when stuff needs to be tight. I'm really quite disciplined with what I'm playing." This multi talented musician has made a name for himself on the London music scene, as well as on European tours supporting some very popular musicians. Frank describes himself as "your average working musician." He played in a London based band called Fingertips, which toured with Cher, Randi Crawford, Snake Davis, Ronnie Laws, Gabrielle, and Norman Cooke (AKA Fatboy Slim.) His popularity here in the states helps him play gigs with American based musicians who come to London, most notably Peter White and Lonnie Liston Smith. He's also played with Jeff Kashiwa and Jaared.
Frank grew up listening to American funk and soul music and lists Johnny Guitar Watson, ("I'm a complete Johnny Guitar Watson freak.") The Ohio Players ("Don't get me started on The Ohio Players.") and Earl Klugh ("I'm a massive Earl Klugh fan.") among his favorites. His older brother used to DJ, so he was exposed to American music from early on. "All the music that I really love comes from America," so Frank enjoys coming over here with Acoustic Alchemy to play. "For a musician, this is Mecca. It's always good to come here."
At the recommendation of Miles Gilderdale, Frank joined Acoustic Alchemy in the fall of 1998. He knew Miles, and band manager, Stewart Coxhead from his days of playing with sax man Snake Davis. "Miles actually called me and said the bass player had to leave. At that time, I hadn't really heard any of the music. Stewart sent me some of the stuff and I said I'd do it." Since that time in 1998, Frank has become an increasingly popular member of the band. He has contributed his songwriting talents to such Acoustic Alchemy songs as "The Panama Cat," "Tuff Puzzle," "Viva Che," and "Senjo Wine." He produced the song "Venus Morena" for the Radio Contact CD.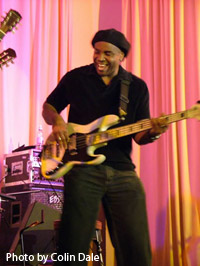 When not making music with Acoustic Alchemy, Frank can be found coaching his younger son's football team. What started out as a chore has turned into something he loves to do. He's come full circle with football.
He can also be found hard at work on his first solo project, which will reflect his musical tastes – funk and soul music. "That's where I'm really coming from. You can expect a lot of funky stuff, some old school sounds, like organs, some strings, some wah wah guitar, Fender Rhodes, and horns... And you're gonna hear me play some bass." He's assembled a talented group of musicians to help him on this project: Neil Cowley, Miles Gilderdale, Fred White, Eddie M., Greg Grainger, Gary Grainger, and Jeff Kashiwa, among others.
On his CD, Frank plays many roles; musician, writer, arranger, producer, and musical director. His fans will get to hear the full range of his talents both performing and handling things in the back of the house. He's working hard at it, and admitted that he didn't realize it would be this much work, but, as with most things in life, anything worth doing, or having, requires work. If it were easy, everybody would do it. So, he'll continue until the job is done, and he's satisfied with the results. Meanwhile, during December, fans in London can catch Frank playing with Acoustic Alchemy at The Pizza Express. Those of us on this side of the pond will have to wait until the 2006 Acoustic Alchemy tour.
- Mary Bentley