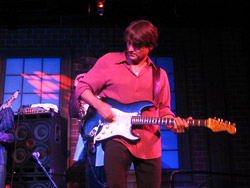 "I don't think I'm your cookie cutter sideman guitar player. I think I have a quirky little style. My style is a little bit left of a lot of people's style, and that's either good or bad. I do what I do, and I take pride in my quirkiness, my originality."
Allen Hinds grew up in Alabama and began playing musical instruments at the age of 15. His first instrument was the French horn. He switched to the guitar when he realized that the French horn was not conducive to attracting girls. With the encouragement of his friends, he began teaching himself to play. "I used to play a little bit of guitar around the house. I knew a few chords, and then I just picked up a few more, and a few more." He attended Berkley School of Music in Boston, then moved to LA and attended the Musician's Institute on a scholarship. Upon graduating, his relationship with the Musician's Institute didn't end. Allen continues his work there. He has been on staff for nearly 20 years, working there when he comes off the road and between gigs. While he doesn't necessarily come from a musical family, his siblings exposed him to many different kinds of music in his early years, especially soul and blues music.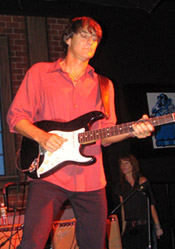 Allen's resume is long and impressive. He is currently a member of Down To The Bone, (DTTB) and has played with some of the finest musicians in the smooth jazz, jazz, rock, soul, country and gospel genres, including Marc Antoine, Patti Austin, Mary J. Blige, Bobby Caldwell, Natalie Cole, Randy Crawford, The Crusaders, Richard Elliott, Roberta Flack, Vince Gill, Amy Grant, James Ingram, Boney James, Eric Marienthal, Marilyn Scott, and Bebe & Cece Winans.

His style is unique and, in his own words, quirky. That quirkiness has enabled him to move easily between genres. Playing different styles of music "keeps things very fresh, and its fun."
In addition to being a talented musician, Allen is a prolific songwriter as well and loves to work with good songwriters. "The older I get, the more I like someone who can write a good song. If you can play a good solo, that's great too. I like someone who can construct, from A to B, a great song. Of course, I think the epitome for me would be James Taylor, Paul McCartney, Joanie Mitchell, or Stevie Wonder – someone who can put together a great song, lyrics and all…I like the songwriter mentality." He has written music for TV shows, and his songs have been performed by Patti Austin and Larry Carlton, among others.
One of the things a side musician is required to do is to put a big part of his or her own personal style aside to accentuate whoever they're playing with. This can sometimes be hard to do, but a good side musician knows how to do it without sacrificing too much. "I like to do things my way; but on the other hand, I've done a lot of sideman work for people on the road. I've learned how to compromise the way I play and what I play. I learned to let loose of my ego in my own stuff."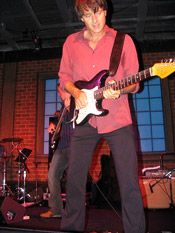 Allen has released his first CD, Fact of the Matter, which, true to Allen Hinds form, is a musical compilation of several different genres. It's got smooth jazz, world beat, blues, Cajun, country, and a very quirky tune, "Left Field." He's got a talented list of musician friends playing on this CD, including Larry Kimpel, Alex Al, Smitty Smith, Roberto Vally (who also plays with Michael Lington and Bobby Caldwell), Rogerio Jardin, Mark McMiller, and Dave Karasony (of The Rippingtons).
When not making music, Allen, a self proclaimed tennis nut, can be found on the courts playing and competing in local tournaments. "I love it! I'm ready to retire and play tennis. It's just a great sport and there are so many ways to do it."
Allen remains an in demand player and songwriter. In November, he and his band, The Allen Hinds Group, will be performing in Japan. He worked on Warren Hill's new CD and is set to work on recording a CD with Dan Siegel and Jeff Kashiwa. Allen is also producing some undiscovered singers. He's writing more music for television and continues to write songs for his next album. Look for Allen on tour with DTTB or with just about any smooth jazz headliner you can name. Chances are he's played with them… or will very soon.
- Mary Bentley