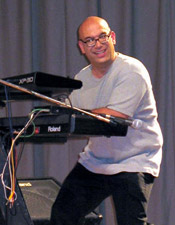 "I'm still a fan of smooth jazz and when I like something, I really like it. I get as excited about new music as when I was 3½. I feel fortunate that I haven't gotten so jaded. Some musicians get really jaded and they lose that excitement, and I've never lost it."
From the time he was about 12 years old, Jay Rowe knew he wanted be a musician. His interest in music developed at a considerably early age. "I really started paying attention to music at age 3 ½." He liked The Beatles Revolver album, which he heard at an uncle's house, so his mother bought him his own copy. "I asked for Sgt. Pepper for Christmas when I was 4. From then on, I was hooked."
The fact that he chose the piano as his instrument is no fluke. Jay grew up with the piano in his life. Many of his relatives took piano lessons growing up. His grandmother owned a piano, which eventually ended up in the Rowe house. "That was the piano that I learned to play on – from grammar school through high school. I got into music because of that little Wurlitzer Spinet!"
He started taking lessons in the 5th grade. From then on, his musical concentration has remained focused on piano and keyboards. "It's an easy instrument to get a sound out of, but it's the hardest instrument to really master, to really play in all the styles."
Jay attended New England Conservatory of Music where he became a part of the New Haven music scene, along with fellow Connecticut natives Marion Meadows and Ron Lawrence. He formed a band that began playing as an opening act for whatever smooth and contemporary jazz acts that played in New Haven, including The Rippingtons, David Benoit, Bela Fleck, Stanley Jordan, and Jeff Lorber. When sax player Marion Meadows got his record deal and went out on the road, he took Jay with him as part of his band. Jay credits Marion and sax player Nelson Rangell for being the catalysts that started his career. "Marion was a really big influence and a great band leader in the Connecticut area. Between Marion and Nelson, they were really what started me out, what got my reputation going on a national level. I was writing songs for Nelson and playing live with Marion." Jay worked with Nelson on his In Every Moment CD. Since then he has racked up an impressive resume. He's played with Marion Meadows, Angela Bofill, Phil Perry, Chieli Minucci & Special EFX, Ken Navarro, and Wayman Tisdale. This year, he can add Kim Waters and Jeff Kashiwa to his list of credits.
There are so many musicians over the years and across the genres that have influenced Jay that there are far too many to list, but his biggest are Vince Guaraldi, Herbie Hancock, Joe Sample, and Jeff Lorber. His talents are well known throughout the smooth jazz community, making him a much respected player in the smooth jazz world. His talents make him an in demand smooth jazz keyboard player. Says Chieli Minucci, "He has been with Special EFX for many years and during our concerts there is always a moment when he does the 'spin'. Picture this, he's in the midst of a blistering piano solo, and it's building, building, and suddenly…he does his little pirouette! The crowd goes wild, first because he's a KILLING player, and secondly because he's a damn fine dancer."
"Basically, when I'm home, I'm a keyboardist for hire. There are times when I might be flying home from one gig, off the plane, right into my car to another gig." When not making music, Jay likes to go biking. "I went from riding seven miles a day to doing 20."
For the past several years, Jay has organized and played in an annual fundraising concert event called Smooth Jazz for Scholars. "One of the things that's really great about being a sideman and playing with a lot of different people is, obviously, you get to meet so many great musicians and it just adds to your network." In the past, the Smooth Jazz for Scholars roster included Marion Meadows, Chieli Minucci, Ken Navarro, Nelson Rangell, and Chuck Loeb. For this year's show, the line-up is Marion, Nelson, Chieli, and Jeff Kashiwa. "It's just something I started doing a few years ago as a way of raising more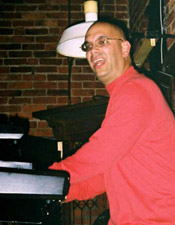 awareness for music education and bringing world class music into suburbia. That's really the whole idea behind Smooth Jazz for Scholars – giving back to the community that I grew up in… that, although it was a small town, it was nurturing enough for me." He wants to make this a nationwide event. "We should do more of those shows because every program needs help…even in the wealthiest communities. I've seen good programs that feel like they're under-funded or they're not getting the recognition athletics gets."
Jay has three solo CDs out and will soon be releasing his 4th early in 2006. The Dream I Had (1994), Jay Walking (1997), and Laugh Out Loud (2001) have all done respectably well. They've received varying amounts of radio airplay. Red, Hot and Smooth (2006) will feature musicians Ken Navarro, Ron Lawrence, and trumpet player Bill Hollerman. "I'm always searching for whatever's classic in my own work. I try to make records that are going to sound great 20 years from now. That's why I prefer to use the acoustic piano as the lead instrument. That sound, I don't think, is ever going out of style. It might be delivered differently through digital keyboards, but it's still a digital keyboard imitating an acoustic piano. An acoustic piano usually sounds better on tape. It's a bigger sound." Says Ken Navarro, "Jay has been working with me in concert since 1995 and in the recording studio since my 1996 CD When Night Calls. I just finished producing, recording, mixing, and playing guitars on Jay's upcoming CD. I can't wait for people to hear Jay's new music. This CD has all the fire and passion that you get when you see Jay play live with me. Plus he composes great songs and every song on this CD is so strong."
In addition to being a smooth jazz musician, Jay is a smooth jazz fan. He's as big a fan of the music and the musicians as the rest of us… so much so that when asked who he'd like to work with someday, the list goes on and on. As many world-class musicians as he's shared the stage with, there are so many more he'd like to… Peter White, Dave Koz, Russ Freeman and the Rippingtons, Mindi Abair, Chris Botti, Acoustic Alchemy, Steve Cole, Norman Brown, and Richard Elliott. He'd like to work with Eric Marienthal and Chuck Loeb some more.
Jay is a skilled technician, another reason why he's constantly working. "I play a lot of left hand bass. That's my other function besides just being a pianist. It's part of being a keyboard player. A lot of times I'm doing two jobs at the same time by being a bass player and a keyboard player. No matter what you play, you have to have some knowledge of the piano, because really it's the backbone of western musical harmony. It comes from the piano."
As much as he loves smooth jazz, Jay's fans would be surprised to know that he is a huge rock fan as well. He works in the smooth jazz realm, but his interests are very broad. "A lot of times when people see you musically, they see you as one thing. There's just not a lot of versatility. It's what keeps you making a living. Talk about being a side man! It's being able to appreciate all types of music."
For musician, writer, and producer Jay Rowe, life happily remains busy. "I still live in the town where I grew up. And my big joke is that my life hasn't changed too much since I was 12. It's just that I have more bills to pay and I get to travel around the country more."
***Tickets for Smooth Jazz for Scholars (4/29/06 @ The Parsons Complex, Milford, CT) can be purchased directly through Jay's website www.jayrowemusic.com.
- Mary Bentley