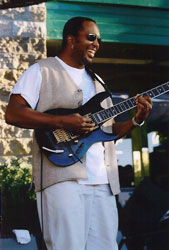 I always knew that I wanted to be a musician. I've always wanted to be the best player that I can be.
From the time he began playing at age 15, Raleigh, NC native Dwight Sills knew he wanted to be a professional musician. In his mind, there were no other options. From an early age, Dwight knew there was something different, something special about music, and the power that it possessed. He could hear it in the music he listened to on the radio or the musical acts he watched on television, like James Brown, the Motown sound, Staxx, even The Beatles and The Rolling Stones. While most kids sang along to the popular songs of the day, Dwight approached music differently. "I remember as a young kid, songs used to affect me a certain way. It was really emotional, [but] not in a bad way. I'd hear certain things, certain progressions in a song. I never really concentrated on the lyric. It was more the way the music was put together that affected me."
Music was always a part of his life growing up. Though his mother was not musical, his father was a gifted singer. Dwight and his siblings took music lessons. His sister played violin, and his brother was a music major in college. For Dwight, his musical journey began with the drums. He switched to the bass, and then finally the guitar, which became his instrument of choice. Like a surgeon, he chose to have one concentration, one thing that he specializes in that he does extremely well. That has paid off for him. In addition to playing in Richard Elliott's band, Dwight has also played with The Jazz Crusaders, Rick Braun, Boney James, Brenda Russell, Kirk Whalum, and Anita Baker. Outside of the genre, he's played with Bette Midler, Jody Watley, and a host of other Pop and R&B acts. He also played on the Michael Jackson 30th Anniversary television special. He would one day love to play gigs with Sting, Marcus Miller, or even his own gigs. "A lot of times you have to go outside of the smooth jazz thing to keep things going. As a sideman, you really don't get the chance to express yourself as much as you'd like, so you have to find different outlets to do that." For Dwight, those outlets include three solo projects: the self-titled Dwight Sills (1991 – Sony/Columbia), Second Wind (1992 – Sony/Columbia), and Easy (1999 – City Lights). He is currently writing for his 4th solo project which he hopes to have completed by mid to late 2007.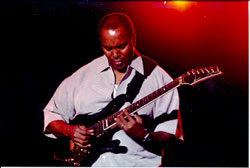 Dwight sees his role as guitar player as "an anchor in the music; to kind of fill in the blanks, so to speak, and provide support." The fact that he's so critical of himself tells me that this is a man who takes his playing and his music seriously; so much so that he wants to keep his playing fresh, spontaneous, and at a musical level high enough that works for him, as well as the audience. "I don't think people realize, if they're really digging the music, we (the members of Richard's band) take pride in making the music happen. [We're] setting a table for him to do his thing. I don't think people realize how much goes into that." Some people get that; however, some won't. Richard Elliott does, and he appreciates Dwight's musicality. "Dwight is one of the most versatile guitarists I have ever worked with. Aside from being a great guy and being able to play in virtually any style, he possesses the very unique combination of amazing technique and incredible feeling. He's truly a complete artist."
When not making music, Dwight likes to spend time cycling and working out. His wife is a tri-athlete and, "She kind of makes me go out and do things. She kicks my butt." He jokingly says. Sometimes he just likes to get in the car and drive or just sit around and take everything in.
In the meantime, Dwight continues to work hard at his craft. As accomplished as he is, he still feels that there is always something to learn about his instrument. He never stops trying to improve. That's what continues to make him an in demand side musician.
- Mary Bentley