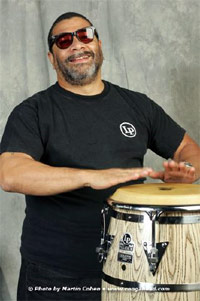 "I'm just doing what God put me here to do. Doing what was written in stone for me – even before I came out of my mother's womb, it seems like. This is what I'm here to do. I've made a wonderful life out of it. God has blessed me unbelievably in this lifetime with so many wonderful things and I never take that for granted. It's a gift that got me from out of Harlem to a million places and back. It's a great thing, and I'm very proud to be doing it still."
After hearing him play many times over the years, there's no doubt in my mind that Lenny Castro was born to play percussion. By whatever name you call it – cosmos, fate, spirituality, or anything else, Lenny knows it, too.
Lenny found his calling early. He began hitting his first congas when he was about 3 years old. He taught himself the basics of playing up until around the time he entered JHS, where he then began taking lessons and joined the school band. Lenny is a product of NYC, and all that it had to offer. He attended the famed Music & Art High School and joined the Borough-Wide and All City bands. "On through high school, I was totally immersed in music almost 24 hours a day." He took classical lessons, he learned to read music, he earned himself a scholarship to music school where he studied mallets, snare drum interpretive, and percussion ensemble, among other subjects. Lenny grew up in Spanish Harlem – a neighborhood on the upper east side of Manhattan that was filled with Latin music and culture. "New York, when I was younger, was such a playground before they turned it into Disneyland. It was a whole different scene. There was a lot more happening. There was so much more [that was] accessible to me as far as music goes." Any New York conga player can tell you that Central Park, by the fountain, was one of the places to be heard, and Lenny was certainly a part of that scene growing up. "Not only Central Park, but a lot of other areas. I did Orchard Beach and Brighton Beach too. There were always cats playing congas whenever you went on any beach. Whenever I heard drums, I would go right to where they were. Dad would take me over there and say, 'Hey, my son plays. Let him sit in.' I'd push my way through and I'd play some congas. I did all of that even as I got older. In Spanish Harlem there were always block parties all over the place. It was a major part of growing up."
Music came easily to Lenny. His father Hector was a keyboard player on the Latin circuit. Willie Bobo, Tito Puente, and Johnny Pacheco were just some of the contemporaries that Hector played with. Lenny also had an uncle who was into the 60's folk music scene. And music was always around his house and neighborhood, so there was constant exposure. Tito Puente was from the same neighborhood, so it was not unusual for him to run into Puente and other Latin musicians in El Barrio. Lenny had many musical influences while learning his craft. He counts Mongo Santamaria and Ray Barretto as two big influences on his conga playing. "Percussion is such a large array of things. There were a lot of different cats who really influenced me. Even Jimmy Hendrix influenced me, and he was a guitar player. Guys like Art Blakey, Elvin Jones, Tito Puente, of course - he was always playing in my neighborhood, Willie Bobo - who I grew up with, guys like Orestes Vilato - who's still working, and a guy named Nicky Marrero – he was and still is an incredible timbalero. There were also some bongoseros. A lot of guys have influenced me."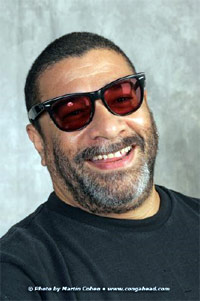 Though Lenny plays a little piano (for writing purposes), he is first and foremost a percussion player. He is experienced in many different types of percussion including mallets, congas, bongos, timbales, shakers, cowbells, and various hand percussion instruments. He is a lifelong student of the percussion, and never stops learning about it. "I try to study as much as I can because there is so much information." A recent trip to Jakarta introduced him to a whole other world of percussion music. "They have a gamelan style. I saw a band there playing in the hotel and it was so inspiring, so mesmerizing. I just stood there like a little kid with my jaw slack. It was just so beautiful."
While discussing the Indonesian musicians and the Jakarta Jazz Festival, Lenny explained his percussion philosophy. "Any culture that you go to anywhere on the planet will have some kind of percussive sound; be it body percussion, skins, rocks, animal hide, wood, whatever. They found a way to make a drum before anything else. Percussion is a constant in just about anywhere in the world. There is Japanese percussion, Korean, Chinese, Latin, Brazilians, South American, Native American, Hindu; you can go on and on. Percussion to me is, and always will be the primal sound – the very first sound; the thunder clap, the fist of the first man hitting the ground. To me, that really puts percussion at number one. It's the oldest form of music." Lenny feels that the role of the percussionist is to tie in the drummer and the bass player - to join the melodic with the rhythmic. "That has to be the foundation of just about any group, any band, or any orchestra. The foundation has to be solid. Percussion, I think, is mandatory in some form or another." This philosophy has kept him working with some of the biggest names in the music industry for many years. He continues to be an in demand studio and touring musician.
Lenny's resume is very extensive and covers many genres. In the smooth and contemporary jazz world, he's recently played with Boney James, and has played with Al Jarreau, David Sanborn, Joe Sample, The Crusaders, and more. In other genres, he's played with Toto, Boz Scaggs, Stevie Wonder, Barbra Streisand, Fleetwood Mac, Dolly Parton, Quincy Jones, Simply Red, The Rolling Stones, and many more. There are not too many people he hasn't played with. Playing across genres has kept life very interesting for Lenny. "They ask me to work with them, to give them whatever I can bring to the table. It's a real honor. It really is. It's great to still be doing it, and doing it in such a diverse way." Lenny even worked on the soundtrack of an episode of The Simpsons', where the family traveled to Brazil.
For all the musicians he's worked with, there are still a few he'd like to add to that list, if he could. He's worked with Eric Clapton on albums, but would welcome the chance to work with him live. Like most musicians, he would have loved to work with Miles Davis. "I know a lot of musicians who have been through his camp, but that was a gig I always wanted to do." Also, Weather Report.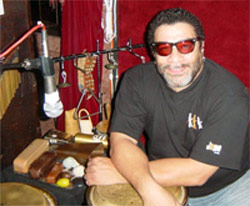 As he approaches this stage in his career, Lenny has been encouraged by family and friends to put out his own solo project. "I think I can pull something together. I've already written about six songs. Right now, I have material. I just need to get it recorded." With all the people that he's worked with over the years, there would be no shortage of musical talent. He could probably call up any musician and ask them to work on his project without a problem. He's a little hesitant to make the jump from a sideman to a front man. "I'm cool being on the sidelines, or in the back creating the groove and being a part of the machine – a part of the boiler room making things cook."
When not making music on the road or in a studio, Lenny can be found at home writing for his CD. He's a huge animation fan and watches it whenever he can. Lenny likes to cook as well, but also loves his wife's Asian cooking. He often helps her in the kitchen. He's recently started taking up golf, which he says puts him in an "interesting situation."
During our conversation, I couldn't help but notice just how humble a person Lenny Castro is. Here's a man who's played with just about everybody in the business. His talents are well known and respected in the industry, but he's very grounded. We certainly hope Lenny continues to grace our genre with his talents. We look forward to seeing and hearing him in the studio and on the road.
- Mary Bentley
First and Second Photos courtesy of Martin Cohen and www.congahead.com. Third Photo courtesy of David Garfield and www.creatchy.com.