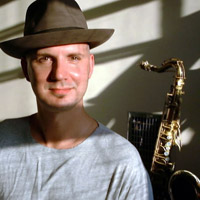 "The one thing I have struggled with about being a multi-instrumentalist is that it doesn't mean you are lacking in any one field, it just means you are who you are."
We all know him as a sax player, but Dino Soldo is much more than that. We all learned of him through his playing with Down to the Bone, but he has done much more than that, too. In fact, Dino has done a lot that most smooth jazz fans just don't know about.
Dino was born and raised in Laverne County of L.A., an orange grove area, and into a family that was engulfed in the love of music. "My grandfather played clarinet in the 1920's. In fact when he died, my dad gave me his clarinet. He used to push me about playing the clarinet. He'd come over and have us all sing barbershop. He was really the patriarch of music of our family. He made everyone stick to music. My uncle, Paul Franklin, was a big jazz DJ in the 60's and 70's in Arizona. He'd interview Herbie Mann and have great stories about Stan Getz and Eddie Harris and anyone else who wandered about at the station. My sister played a little bit of guitar, not much. I really owe it all to my grandfather and my parents who were just immense jazz lovers. That's basically where I got most of my influences from."
Multi-instrumentalist is the one word to describe Dino. While we all know he is first and foremost a sax player, Dino is also a tremendous harmonica player and vocalist, in addition to playing a host of other instruments when necessary. In order to get recordings done at home, Dino has played guitar, keyboards and brass instruments…basically everything but drums and bass! "My high school band director was really the one that got me into being the person that I am. He saw that I really was a spaz…just kind of going all over the place! I had a little too much energy. He didn't keep me on sax. He'd have me on woodwinds, then he'd put me on brass, then have me play an accompaniment. Just anything where I didn't know the music too much, he would just put me there and I got to be kind of a spare tire and go wherever the band was deficient! I think I've been doing the same thing since I was 14…just doing whatever is needed in whatever group I'm in. I love it!"
This outlook, and some early sax lessons from Brandon Fields, has given Dino the attitude and ability to play a lot of different music with a lot of different artists. His impressive resume includes smooth jazz artists DTTB, Chris Standring, Peter White, Keiko Matsui, and Gregg Karukas. He is also one of the many sax players who graced the stage with Tower of Power at the young age of 20 years old. Smooth jazz is not the only genre for this versatile musician. He has achieved balance between smooth jazz and the pop world, where he has played with Lionel Richie, LeAnn Rimes, Vanessa Williams, Lou Rawls and Ray Charles.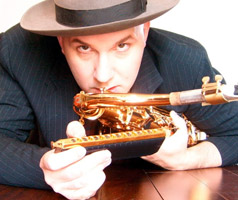 Through all of his adventures, Dino loves the audience and feels it is his job to get them on their feet, and if you have ever seen him live you know he'll do almost anything. "The job of the audience is to have fun. The job of the audience is to wish they were on stage as much as we wish we were in the crowd. When you are up on stage, it's kind of a magical thing that happens where you are having so much fun that you don't feel like you are on stage. And if you are connecting with them, they feel the exact same way. If I can do that while I am on stage, it makes it all worth it. And if you have a crowd that's dead…I make them get off!! You do something outlandish. I feel so humbled by who has come before me. I think of Lester Young, Charlie Parker and Eddie Harris. Eddie Harris will make you get off and make you have fun. He'll start singing or scooting around. He'll find a way to get to your heart. And isn't that the performer's job? It's not about what notes I am playing. It's about are we having fun or not…are we connecting." Apparently, these non-verbal, sometimes outlandish, acts have also been influenced by Dino's love of the legendary Buster Keaton, who Dino sees as a musician. With his timing, unspoken communication, physical ability, and massive amounts of talent, he would go in front of a camera and improvise like a jazz musician.
Reaching that balance between musician, vocalist and lyricist is something that Dino focuses on. In fact, his latest CD, Balance, is a terrific blend of sax and harmonica infused with blues and R&B. His funky, fun, energetic and charismatic personality all shine through every track.
So, if you are ready to enjoy terrific music, be enthralled by a versatile musician who might just start playing every instrument a band may have, and will appreciate the antics he can provide to get you on your feet, then catch the next show with Dino Soldo. You will have the time of your life!
- Bonnie Schendell