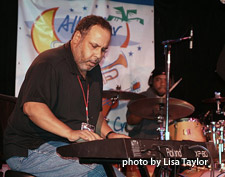 "I just love what I do. Not only is it a job, but it's fun. I can't imagine being in any other business. You always have to be happy and passionate about what you do. Making music is it for me."
SmoothViews is continuing its focus on the Chicago music scene by featuring yet another notable from the Windy City. This time we have keyboardist, arranger, writer, producer and vocalist, Mike Logan. Known most recently for touring with Brian Culbertson, Mike has been serving up vocals and piano for a long time and for a lot of heavy hitters in the industry.
Born in South Bend, Indiana, but raised in Chicago, Mike was immersed in music from a very young age, and exposed to it by various family members. "My mother was a singer. My grandmother sang, played piano and violin. And my great-grandmother had a band that my grandmother played in! According to my Mom, I started playing piano when I was three or four. She said I was trying to make chords on the piano. When I asked her if she was sure that was me, she reminded me that I was an only child, so she was pretty sure!"
Mike took his first formal piano lessons from Betty Pierce who taught music at the same school where his Dad taught French and English. In addition to playing the piano, Mike was self-taught on the guitar. During his first few professional gigs, Mike was playing guitar for the Staple Singers. Then one day the piano player didn't show up. "We were in Pop's (Staples) studio, and I said I would play piano for the rehearsal. So I played and after that he said he wanted me to play keyboards from then on. I had just put somebody out of a job!"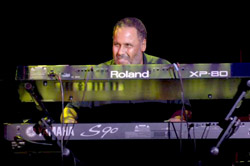 Playing with the Staple Singers was where Mike got his initial taste of a live audience, but he cut his performing teeth in his parents' living room. "My parents were like the Dick Van Dyke show. They'd have friends and family over for parties, and everyone would have to perform something. You could sing, dance or play an instrument. That was my first experience, and it got all the butterflies out of me early on. I was the house musician. But when I played live with the Staple Singers, I began to wonder how I got there."
Influenced by Oscar Peterson, George Duke and Herbie Hancock, Mike's foundation with the Staple Singers, Gene Chandler and The Emotions led to co-writing a hit single for Gerald Albright in the mid-80s. He also penned, produced and performed the soundtracks for three motion pictures by Fred Williamson. If this weren't enough, his resume also includes working for ten years with Ramsey Lewis, and as musical director for Phil Perry. In the most recent years, Mike has been recording with Nick Colionne, and performing with the likes of Kirk Whalum, Steve Cole, Will Downing, Gerald Albright, Patti Austin, Jonathan Butler, Rick Braun, Peter White, Chieli Minucci, Everette Harp, Jeff Lorber and Jeff Golub. Whew! This man gets around.
What does he do in his spare time when there is a free minute? "More music!" notes Mike. "I can usually be found listening to or playing music." He also works with his 14-year-old son who has taken up drums and recently joined Mike and his mom on stage at a local Chicago club. And coming up – fishing with buddy Nick Colionne. But before that, Mike gets to fulfill one of his dreams of a lifetime and play onstage with George Duke.
So, when you hit the Chicago music scene, or any one of the many jazz festivals around the country, be sure to check out the man behind the keyboard. With the numerous people he continues to arrange, write and perform with, it's very likely that you will see Mike Logan.
- Bonnie Schendell