"As an independent artist it is so important to learn about the production of a CD. And there is so much satisfaction in knowing that you have done all of this yourself when you get the feedback that people have really enjoyed it."
From upbeat, funky jazz to classical movements, a bass player is essential to the rhythm of the music. Sometimes they are out there showing their stuff to the crowd with hair-raising solos and other times we have the quiet types that just lay down the grooves, but amaze us with their talent. David Hughes is the understated bassist that can definitely come on strong when the moment arises.
Born in Sweden, in a small town outside of Stockholm, David Hughes picked up the bass at 12 years old and primarily taught himself how to play. "Being in a relatively small town, there were not a lot of bass players. So, I started picking up magazines and music, and would read and listen to anything I could get my hands on to learn." Before that, David's family got him started on his road to music. His father was an amateur pianist from Edinburgh, Scotland who had David playing the piano when he was just six years old. "Whenever we would go somewhere, my Mom's friends would ask me to play something, but there was no piano. I wanted to play something a little more portable! And my Dad said that the violin was a creative instrument, so I tried that." David also plays the viola and the upright bass. He fondly remembers times when he looked like a one-man-band traveling on a tram, carrying his violin, viola and bass guitar to high school, and notes, "I was carrying so much stuff, I thought I was going to tip over!" College is where David decided that bass was his passion, but when composing, he frequently goes back to the piano.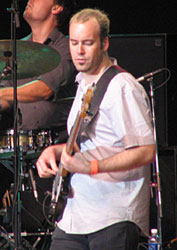 Being a musician, it is important to have as many influences as possible to become well rounded and David counts Paul McCartney as his first, and, of course, Jaco Pastorius. While in Sweden, David played with some well-respected, top-notch musicians; but after 12 years in the U.S, Swedish-born bassist David Hughes has now made quite a name for himself. He has played with Chaka Khan, Smokey Robinson, The Jazz Crusaders, and can be found whenever and wherever you see David Benoit. He joined David Benoit's trio about eighteen months ago and has really meshed well with the pianist and his drummer, Jamey Tate. When asked about David Hughes' playing, Benoit said, "David Hughes is an exciting young bass player that is capable of playing any musical style from funky jazz to symphonic classical. And, in addition to being a perfect sideman, he is also an accomplished leader and soloist. It is a pleasure to have him as a member of my band."

David also counts Chick Corea and Pat Metheny as musicians he would still love to play with.
Besides playing bass, David has also been a teacher. He started teaching private lessons in Sweden and became the go-to-bass-guy, since there weren't too many others. After attending Musicians Institute in California, he was asked to stay on and teach. It was the first time he had taught in a classroom environment.
As a follow-up to David's first solo CD, Swoosh, his new CD to be released later this year, is tentatively titled Foreign Shores, and will feature such notables as Jamey Tate, Eric Marienthal, and Andy Suzuki, among others. It promises to be a combination of smooth jazz and fusion, and will be distributed through CDBaby and Amazon.
In his spare, David can be found spending as much time as possible with his wife, who is also a bass player. He also is quite an outdoorsman and loves camping in Yosemite National Park. "I'm the kind of guy who needs a window seat on the plane and just watches the landscape going by."
So, while his name may not ring a bell with you right now, stay tuned. David Hughes will not remain under the radar for long. His quiet and mellow persona is just waiting for the right time to cut loose. Be sure to catch him on tour with David Benoit.
- Bonnie Schendell