"I'm very happy with what I've done in this format. I'm recognized by people for doing this. I enjoy that, and I love the performance aspect. The personal side of me, the writing stuff, I haven't shown that to as many people. It's not that I'm afraid to show it, [but], like most artists, you want it to be great. You want it to be as good as it sounds in your head. You want it to come across."
Chicago is a city known to produce and cultivate talented musicians. From Benny Goodman, Nat "King" Cole, and Muddy Waters of yesteryear to Ramsey Lewis, Brian Culbertson, Steve Cole, and Nick Colionne of today, Chicago continues its legacy of turning out talent.
Let's add another name to the Chicago talent roster: Dave Hiltebrand.
Dave Hiltebrand is a musician who has worked steadily throughout the Chicago area, as well as touring with national acts. He is a multi-instrumentalist, playing the piano, guitar, and, most notably, the bass. Having come from a musical family, Dave was exposed early to all kinds of music, so it was only natural for him to gravitate towards music. "My parents were very encouraging in music. My father is a very accomplished musician, a pianist. I grew up listening to him play jazz standards, Brazilian music, show tunes, George Gershwin – great music. [It was a] great influence, coming up to hear that. I had a lot of great music around."
Though he is known by the moniker "Hollywood," Dave is true to his Chicago roots, and credits his locale as a big influence on his musical direction. "Living in Chicago and working the club scene so much, you are exposed to playing different styles: gospel, blues, and all this kind of stuff. It's kind of a well-rounded city to be around, and definitely influences writing, performing, and playing. It's not limited to one style or sound."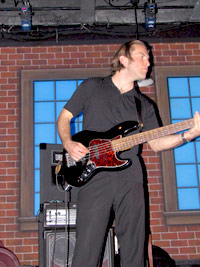 Throughout his formative years, music has been a part of Dave's life. He even played in a band with his brother during those early years. As he got older, music steadily became more important to him, but he still wasn't exactly sure where he wanted it to fit into his life. It wasn't until his senior year in high school that he decided that he wanted to really focus on studying music. Dave began his formal music education at the University of Dayton to study classical guitar. "I wanted to play guitar. I was really into some of the fusion players. They were some of the first people I heard." During the time spent at the University of Dayton, Dave had an epiphany about playing the bass. "I realized that that was where my heart was. That was the instrument that made the most sense for me to go on. I heard my bass teacher play the six string bass, which I play quite a bit, but he played a solo bass piece on a six string bass… beautiful chordal arrangements of 'Someone to Watch over Me.' It had been a really special tune growing up. It was one of my father's favorite tunes, and one of mine. Six string bass; it makes sense. I could play guitar on this instrument. I could play bass on it. I could play piano-ish kinds of things. From that point, I was hooked and that was when my whole focus went that way." After leaving the University of Dayton, Dave continued his studies at DePaul University, where he received a degree in Jazz Studies and Commercial Music. After college, Dave began playing around Chicago. He played for four years with the Latin group Caso Lando. They did well as independent artists, recording and selling several albums. They also opened for groups like Los Lobos, and received national attention from Rolling Stone and Billboard magazines. They even had some of their music featured on "Sex and the City."
Dave is best known for being a bassist, but he is also a very talented songwriter and producer. For the past six years, Dave has been a member of Nick Colionne's band serving as Nick's bass player and Musical Director. Dave wrote the tunes "Because of You" and "Downtown" from Nick's 2004 album, Just Come On In. He's also the co-writer of "Always Thinking of You," the first single from Nick's current 2006 release, Keepin' It Cool. Dave was a major part of ever popular late night jam sessions hosted by Nick on last year's All Star Jazz Cruise, and is already looking forward to next year's cruise. Nick says, "Dave Hiltebrand is one of the most talented people that I have had the pleasure of working with. His abilities as a bassist are the greatest. He is also a very talented writer and producer. I would not trade him for anything. He is also one of the greatest people I know. I am proud to call him my friend, my brother, and Hollywood."
In the liner notes of Steve Cole's 2005 release, Spin, you'll find that Dave not only played bass, piano, and guitar throughout the CD, but he co-wrote and co-produced the whole album. This is what Steve has to say about Dave. "Dave Hiltebrand is a rare find among musicians. He's a guy with a great personality, a serious work ethic, and a deep dedication to his craft. Not only is he one of the most talented multi-instrumentalists that I've ever had the pleasure to work with, he's also a fantastic writer and producer. Whether [playing] live or in the studio, you can always count on Dave to take it from good to great."
In addition to working with Nick Colionne and Steve Cole, Dave was part of the band for the Sax Pack tour with Jeff Kashiwa, Kim Waters, Marion Meadows, and Steve Cole.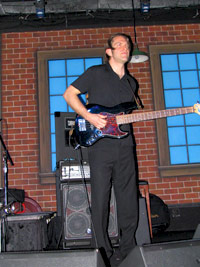 Dave's songwriting extends well beyond the boundaries of the smooth and contemporary jazz genres. He's currently working on writing music for himself that is more visual – similar to the sound, feel, and approach of a film score, but kind of a hybrid – incorporating his own thing into it. "The thing that's always touched me about that kind of music is that it's very emotional and very panoramic. It's very visual, even when there's no movie. I'm feeling myself waiting to really explore the harmonic and color world more. That's kind of what's really personable to me. I want to do more like that." He's also trying to write some material for other artists as well. He uses his knowledge and experience with other instruments to help in his songwriting. "All of them play into each other. It's fun to write on each different one and apply it." Dave is as much of a hybrid as the music he loves to create. Is he a writer who plays instruments or a musician who writes? He's somewhere in the middle. He's both. "The thing I love most about playing is the composing while I'm playing. That's why I'm so drawn to jazz – the improvising. Not only improvising solos, but improvising chord changes."
According to Dave, the role of the bass player in the band is hold the groove, keep the foundation strong, outline the chords, make everyone else comfortable with what's going on, and to make them sound great. "If you're doing that, then you're doing the right thing. It's almost a transparency." Dave feels that he has a strong sense of chord changes and outlining harmony that greatly help him in his bass player role. "Trying to find the nice choice notes that really compliment what the keyboard player is playing, or the right register with what the guitar player is playing. Those are things that I've really tried to focus on. Where it needs to be a low, fat note, put that there. When it needs to be more of a delicate or higher note, maybe that's the right thing; or a lighter touch. Those kinds of things are what really excite me about playing bass – trying to fit in; kind of mixing yourself as you play instead of just coming out guns a blazing."
Dave counts The Yellowjacket's Jimmy Haslip, and James Taylor bassist Jim Johnson among his bass playing heroes. He would someday love the opportunity to play with Pat Metheny. "He's an artist that's also been such an inspiration, musically, and just where he's coming from. He's a very cinematic kind of guy and I'm really into that way of presenting music."
When not making music, Dave can be found in the bowling alley. "I'm addicted to it. I really enjoy it. It's a lot of fun. I'll probably do it for the rest of my life." Dave is part of a late night league of night owls who meet weekly. He was even good enough to qualify for his first tournament.
For now, Dave will continue to work on his writing, working on material for himself and for other artists. Look for him on tour with Nick Colionne, Steve Cole, the Sax Pack, and the 2007 All Star Jazz Cruise respectively. And if you're in Chicago, you can find Dave playing locally with his trio, or perhaps rolling strikes in the bowling alley.
- Mary Bentley
Photos by Bonnie Schendell