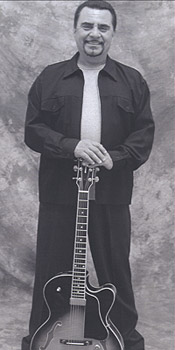 "It's been a fun ride, but the surprises have been amazing. I have played with so many people. On stage, our energies come together. Then we all take something from it and take it out into our careers For me, it's like adding a new tool to my toolbox."
Guitarist Michael O'Neill has played with most everyone in the pop/R&B/smooth jazz arena. With a long and impressive resume', it's astonishing to know that many fans out there have not heard of him before.
Born and raised in Santa Monica, California, Michael was influenced by the music in his family from a very young age. "I am half Mexican and my godfather was one of the founding members of a very famous trio from Mexico City. They would take trips up here to Los Angeles to perform and we would have these big extended family parties. Everybody would put me up there to perform when I was a little boy. Guess I was supposed to be doing this!" Michael's whole Mexican side of the family not only has musicians, but a lot of relatives in the arts. There are film-makers and composers, as well, and Michael describes them as "very much a passionate, arts-oriented family." Two of Michael's cousins from Mexico City made their way to the U.S. and are now teaching music. One is a professor at the Berklee School of Music, specializing in jazz and Latin music. The other is an opera teacher at the New England Conservatory.
Michael started out playing bass when he was about 15 years old, but soon switched to guitar and was completely self-taught. "Coming up I had a guy in high school take me under his wing. He was a grade ahead of me and really into the blues masters on guitar, so that was a basic starting point on how to connect on an emotional level to your instrument. So, I spent a couple of years following BB King, Albert King, and Freddie King. I would see these guys as often as possible. That stuff naturally segued into the early invasion of The Beatles and Stones. Then you had Eric Clapton, Jimmy Page and Jeff Beck from the U.K. These guys were essentially from a blues place, but their songs gave us more of a rock/pop element."
When asked how he ended up in the jazz world, Michael emphatically states, "I ended up doing jazz because I got bored!" When another friend introduced him to the work of Wes Montgomery, he was stunned, and ready to take on something new and more of a challenge. That was his introduction into jazz. At the same time, Michael was also playing in a local R&B/pop band and was greatly influenced by Stevie Wonder. "To me," Michael notes, "Stevie is like a modern day Gershwin. So, on one side, I had the love of the jazz guitar, and on the other side loving the R&B/pop side, so I was enjoying what is actually today's smooth jazz throughout the years."
And it has been many years. Michael has been playing backup with George Benson for 25 years. "I have done some great things and been involved in great productions, but living my dream has been to play with George Benson and with Stevie Wonder. For nearly two years, I bounced back and forth between George and Stevie. More recently it has been between George and Natalie Cole." Before living his dream, Michael started out in 1979 with the Crusaders during their Street Life tour, then came gigs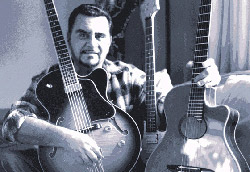 with Ronnie Laws, Gato Barbieri, Ricki Lee Jones, Natalie Cole, and the smooth jazz core guys of today – Boney James, Rick Braun, Peter White, Richard Elliot, Gregg Karukas, and Michael Paulo. "I think I have shared the stage with most everybody at one time or another, but I think someone like Sting or Peter Gabriel would be my next dream!"
With three solo CDs to his credit, Michael is also looking ahead. "Funky Fiesta received some terrific reviews and it was amazing to work with some fabulous artists. I definitely want to continue pursuing the solo part of my career. Where I will go with the next project, I have no idea just yet." What most people don't know about Michael is his incredible voice. He can be found singing backup at George Benson shows, included several vocals on his first album, and plans to revisit that on the next project. With his new home studio ready to go, he can now create any time the calling hits.
So what does this seasoned guitarist do when not on the road? As the father of a 21-year-old son and 16-year-old daughter, life for Michael is a busy one. "Both of my kids are into music. No surprise there. My son is into assembling music on the computer. Kind of like rock-n-roll meets video games. My daughter is extremely focused in theater arts. She is a beautiful singer in the chamber choir in high school. Besides my kids, I am an absolute sports nut – baseball, football, basketball." Or you may see Michael snorkeling in the waters off Hawaii, a favorite vacation spot.
Look for Michael O'Neill, currently on tour with George Benson and on various CDs of some of your favorite smooth jazz artists. And be sure to check out his solo works as well. For more information on Michael, check out his website at: www.onoffon.com/michaeloneill.html.
- Bonnie Schendell