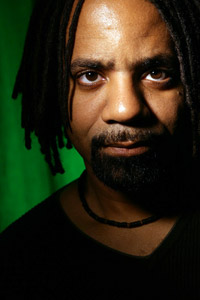 "My role is all about filling out the harmonic structure. It's the solid stuff that rounds out the harmony. I like to sit in the pocket and make sure that the song is there. Sometimes people are just jamming and you tend to get away from the original record. I try to keep everyone back in the song."
Music or science and math? This was the lifelong dilemma for keyboardist, Rodney Lee, but this talented musician/producer has managed to forge a life that incorporates his love of both.
Although born into a military family that moved around every four years, Rodney Lee has always had music surrounding him. His life started out in Alabama, but Rodney considers Texas his home. "My father was in the Air Force and we moved around a lot. I lived in Alabama only for my first three months, but consider Austin, Texas my true home since I went to high school there." His love of music began with his Dad. "Dad was really into jazz," notes Rodney. "There was always music in the house, so the music he was bringing home was probably my first inspiration. Herbie Hancock, Chick Corea and Joe Sample were probably my earliest influences." A piano was always in the Lee household also. His mother played it a little, but nothing professionally. Rodney tinkered with the piano, but had to stop when the family was relocated to Japan for four years and there was a weight limit on possessions you could bring. The piano had to be left behind.
Upon returning, Rodney began to take piano lessons. He had several teachers that he worked with in the beginning, but after settling in Texas, happened upon a teacher named Mark Mardy who was really instrumental in getting him interested in jazz. The love of music continued throughout high school and Rodney played in some local bands, but he also had an incredible aptitude for science and math. "Coming out of high school in Texas, I went to University of Texas/Austin as a music major and studied applied organ, which is classical pipe organ. I did that for a year and then started seeing musicians graduating and not having jobs. I never saw myself playing at a Catholic church and directing the choir, and I had enough insight to know I wasn't a prodigy. And I had always been good at math and interested in the sciences, so I decided that if I was going to go to college and spend all of my parents' money, I should do something I could get a job with!" So Rodney switched from being a music major to electrical engineering, dropped out of the music school and enrolled in the engineering school.
How did this electrical engineer end up playing in the pop, R&B, and smooth jazz world? Well, after he graduated and worked for fours years as a chip designer for Bell Laboratories, some of his friends from a college cover band he had been in called and asked him to come to California with them. "So I called my Dad and told him that I was going to quit my job and move to L.A. I gave myself two years to make it or not and now I've been out here for 15 years! And every year or so, I re-evaluate where I am and if I still love it." So far, his decision has been a successful one, but Rodney also continued his education and received his Masters' Degree in Electrical Engineering from UC Berkeley.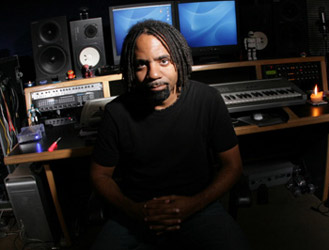 When Rodney got to L.A., one of his friends had already made some great contacts in the R&B world. Rodney met a lot of people. "I did a bunch of touring, played with Chante Moore and got hooked up in that click. My circle of people started expanding." Rodney was hooked up with a straight-ahead jazz band, and through that connection met Chris Standring. He and Chris hit it off as friends almost immediately and started working together. Since that time, Rodney has written, produced, and performed with Chris Standring. The relationship with Mindi Abair soon followed after Mindi worked a few times with Chris Standring, playing sax on some of his songs. She was still an up-and-comer, but soon landed a record deal and called on her friend, Rodney. Mindi says of Rodney, "Rodney is such a talent and I feel incredibly lucky to have him in my band. He makes everyone he plays with sound good. He has such an ear for sounds and subtleties that just make a song. He's an incredible player, as we all know. He scores movies, co-writes with and has produced all of Chris Standring's CDs. He's amazing."
When Rodney isn't touring with Mindi Abair or Chris Standring's band, he serves as the musical director for Jody Watley, a role that has now lasted for six of the 13 years he has played with her. He is also very busy focusing on his solo career. His 2003 release, Alien Chatter, received terrific reviews. It's classified as electronica meets world music. His latest venture is The Satellite Orchestra, released this year. Rodney moves into some new areas with sound and production on this CD.
And when not playing or producing his music, Rodney can be found hiking or returning to his science roots. His former life as a chip designer and lover of science has turned into his new hobby. He has gotten into researching whether or not the planet is running out of oil, is an avid reader, and is writing a science fiction novel.
So the next time you see Rodney out on the road, sitting behind the keyboards, creating new music, and jamming with some of your favorite smooth jazz artists, remember that the chip inside any one of the electrical products you use could have also been developed by this humble, renaissance man.
For more information on Rodney and his music, be sure to visit his website at www.rodneylee.net.
- Bonnie Schendell