November 12, 2004
Interviewed Susan Johnson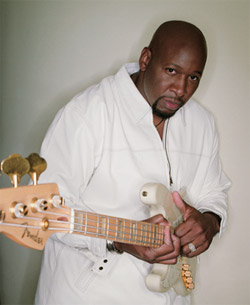 Wayman Tisdale has recently been enjoying a #1 spot on the charts and has been out on tour promoting his new CD, Hang Time, after signing with Rendezvous Records earlier this year. He was at home in Tulsa, Oklahoma when we caught up with him between meetings.

SmoothViews (SV): "Ain't No Stoppin' Us Now" is #1 on R&R this week! Congratulations! I bet you're grinnin' like the picture on the cover of your CD Hang Time!
Wayman Tisdale (WT): I'm just really enjoying this. It's just really a blessing to be able to be accepted now. You think about the #1 position and you think man! A lot of people just want to get the record out on the radio and then when it makes it to #1 it's just even that much more gratifying! I'm just really happy that everybody's loving the record.

SV: You mention on your website that you make the bass "sing." It really does seem to sing. Is this a technique of playing or the way you write the music?
WT: Oh, thank you. I think it's just a more deliberate approach to playing. I have to think like a singer. What would a singer do. And I think it comes from my years of growing up under my dad who was a singer to know where to put stuff or how to fit it and to stay in that vein because there are bass players and then there are guys who sing on the bass. (laughs) I try to stay in one area because you can easily get off into performing and doing a lot of chops or a lot of fancy licks… which is great for the live show, but a lot of people want to be able to sing with what you're playing and want to be able to walk away humming what you just played and that's what I try to stick to. I also sing and that does help. It kind of translates right into your playing.

SV: Most everyone knows you from the basketball court. You played basketball through high school and college and went on to the pros. Your dad bought you and your brothers Mickey Mouse guitars and you became serious about it!
WT: Before I started playing basketball, I was playing bass. I started playing bass without a lesson. I've been able to make sense out of music in general (since I was) a little kid. My father bought me a guitar and that's when I started, you know, pretty much being able to make sense out of the guitar without having a lesson. That's where it all started! (laughs)

SV: Since schools emphasize sports more than music, did you develop your musical talent in the school system or on your own?
WT: Pretty much on my own. I mean… I grew up in a school… most of my middle school and my elementary school as well as my high school… were both sports and musically oriented. I feel that growing up in church was my biggest influence.

SV: What a great cover of Smokey Robinson's "Cruisin'"! How do you pick which covers you want to include on your CD's? Memories from the past?
WT: Thanks. "Ain't No Stoppin Us Now" was actually a suggestion of Dave's. The actual "Cruisin'" cover, I was sittin' up in the studio and just started playing the riff… the guitar lick that's at the top of the record and I said, "Man! We gotta do that song." So about 12:30 at night, we started putting this song down and finished it about 3:00 in the morning!

SV: What inspires you when you write? Is there a place where you go, either mentally or physically to write music? And do you write on piano or the bass?
WT: When I go into a writing mode, I'll, you know… once I get there, I like to stay there. Meaning that, if I start writing I try to, if I hit a groove… every day I try to write something while I'm in that groove. I can be in any state of mind. It just depends on what mood I'm in and I pretty much write to the mood… if it's about family… I just had a great time with family or friends or I'm hanging out or anything. I can usually just write about any situation. It just has to be great melodic drift… if it has a great melody, I can usually write around it. It doesn't matter what's going on around me. I can have a song in my head and it can be total chaos. In fact, I used to write while I was on the basketball court and 20,000 screaming fans going crazy and I've got a song in my head that I can't wait to leave the court to go jot down! That doesn't bother me! It's all internal. I can pick songs out on the bass and I do some writing on piano, but most of the writing comes from me playing acoustic guitar. I usually do it between the piano, bass and guitar. I'm just picking each setting. It depends on the song, ya know. You can tell the acoustic driven songs. There's a song on my record called "My World" and "Glory Glory" and a song called "Everything in You." Those songs are all written on acoustic guitar.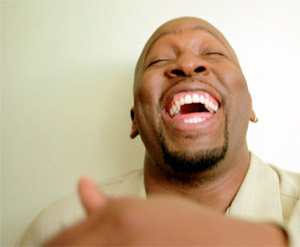 SV: Your daughter sings on "Glory Glory," a song you wrote for your gospel album a few years back. Are your children interested in both sports and music like you were?
WT: Oh yes! My oldest daughter in fact wrote the title song to my last record, Face to Face. She's a great talent! A great writer and, in fact, we're working on her record as we speak. Her name is Danielle. Check for her records in a store near you this spring! I don't know if it will be that soon, but that just sounded good! (laughs) We can go out on tour together! She was out on tour with me the last couple of years. She comes out and sings and she sings very well! She's a singer at Oklahoma University and she just got an internship with People magazine, so she'll be living in New York in the next couple of months. We're very excited for her for that and also doing her record! So, she's going to be ready to rock-n'-roll here in a second! She's gettin' groomed for the big world here!

SV: So she can promote your CD in People and you can promote her CD on the road!
WT: There you go! You've got the vision! My son is into sports. He's in AA basketball and horseback riding and rodeo. He loves that. Probably more than basketball! He's going to probably end up like me… as far as loving one thing as his first love and I wouldn't say he has to play basketball, but it's just a natural thing to do 'cause he's so tall! Then my youngest daughter is into music. Her name is Gabrielle. She plays as well. Tiffany is in high school band. She's in the marching band. So all of us are just trying to do something musically… except for mom. She just tells us when we're out of tune and provides a lot of support! I'm trying to get her to sing, but she won't sing for me yet.

SV: Your stage presence is amazing. You are all over the stage. It's obvious that you enjoy every minute the way you grin and interact with the band and the crowd. How is performing on stage different from performing on the court?
WT: It's a lot the same… you know, people come to be entertained, just like the crowd when they come to see you play. They want to be entertained as well. I try to translate that side of things, make it really enjoyable for my show. It's a night to get away, forget about all your troubles, all the things that've been holding you down… giving you problems. If I can do that for the next couple of hours, that's what I call entertainment.

SV: Who would you like to perform with? Anybody that would be a dream come true?
WT: I would love to perform with many people. Prince! (laughs) Somebody like that... I would love to do a show with him. Any number of entertainers. I just can't really name one person to say that, "Hey this is the one and only!"

SV: How did the "marriage" with Rendezvous Records happen?
WT: Oh man. That was a great thing! Dave called…. I was actually out cutting my grass and Dave Koz called me and asked me what I was doing for the summer. I told him I wasn't too busy. I had a few things… a few gigs in there, but I would definitely be available. I asked him what was up. He told me about his tour and then we got to talking and he asked about my record. I said, "I've got a record called Hang Time that I'm working on" I tell you… once he heard it and I told him I wasn't signed to anybody, literally 2½ months later we were signed, and I was out on the airwaves with "Ain't No Stoppin' Us Now," which just got to be #1 on the charts! Very quick! I had the CD mostly done and Dave came in and put the final finishing touches on it on a couple of songs. It's been the best move of my musical career! I've been with all the majors, I mean a lot of majors… Warner Bros, Motown, and a couple other ones, but when Dave asked me… it's just been the perfect marriage. It's the perfect element for everybody! I didn't even have to think about it. Once I saw who was the director of the whole cruise ship it was time to go rock-n'-roll! It definitely was pure fate. We talk about it all the time. It's like, he couldn't have called me at a better time! I think if he would have called me a week or two later it would have been a whole different story. He called at the right time! The right moment. And I was home!

SV: You were on tour last summer with Dave Koz and Friends and now you're headed out with him again on the Dave Koz and Friends Smooth Jazz Christmas show. It seems like a fun collaboration!
WT: Yeah, yeah! We're headed back out and I'm excited about going out and just performing. I think he just wants to keep me out and keep me in front of everyone… and I think the chemistry is just perfect with Dave and myself, so it really works out well! It's just like… when opposites attract… like me being so tall and Dave being, I wouldn't say "so short" but shorter than I am and I make anybody look short! It just really makes it a fun night!

SV: Does your family get to see your tour?
WT: Yeah, my whole family got to come out for a couple of shows and they'll come out for this Christmas show, as well. It's just a fun deal!

SV: What's up for you in 2005?
WT: I'm just getting ready to do a Christmas record so I'll be finishing that up in 2005. It'll be out next Christmas. I'm getting ready for "Tis the Season"! (pun intended) Have a wonderful holiday! It's going to be a great year!
Visit www.waymantisdale.com for more information on Wayman.