Peter White and his band are always a pleasure to see and hear, but at Jazz Alley, a very intimate setting with an incredible sound system, it's an even more pleasureable experience. I sat one seat away from the stage and was able to enjoy up close and personal the camaraderie between these talented band members.

Peter started off with a few old favorites, then led into his new hit song from his CD Confidential, "Talkin' bout Love," with a great bass solo by Donald Patterson, and then one of my favorite songs, "Venice Beach," which never fails to put a smile on my face. I just closed my eyes and enjoyed hearing one my favorite songs live. This was followed by one of my favorite parts of the show when Peter plays a selection of his favorite songs, including "I Can See Clearly Now," "My Cherie Amore," "I Can't Take My Eyes Off of You," "Who's That Lady" and "Papa Was a Rollin' Stone" complete with Peter singing in a surprisingly good voice. Who doesn't love hearing all those old favorites in Peter's fun style of guitar playing?

You can tell he's really enjoying himself on the stage and is a man very comfortable with the guitar as well as making fun of himself with silly facial expressions and dance steps. He and Michael Paulo really are entertaining to watch. The rest of the band is fun to watch as well, and David Sparkman's beautiful, smooth voice gives me chills every time I hear it. If you haven't seen Peter White live, it's worth it just to hear David sing! I'll never forget the first time I heard him sing, it blew me away.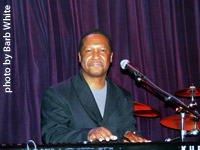 But back to the show! Peter played another radio friendly favorite, "Bueno Funk," which is, as Peter says, way too funky for an Englishman. Then he slowed things down a bit with "Lullaby" and "Swept Away" which is probably my favorite track from Confidential. I know I won't ever hear "Swept Away" again without thinking of Peter's story of himself as a young boy visiting the sea with his family while on vacation, looking out on the horizon wondering what's beyond where the sea ends. Truly a memorable moment in the show for me. Peter ended the show with another medley of upbeat songs, "San Diego," "Bullseye," which I've always felt has had a slightly disco flavor to it, "Dreamwalk" and last but certainly not least, "What's Going On." It was a wonderful show, and only disappointing when it ended.

Peter knows how to entertain, and his music is so pleasureable to listen to, live or otherwise. I find myself not getting enough, and am listening to his Reflections CD today with great memories of a wonderful show in my head! Get out to see Peter when he comes to your area - you won't be disappointed.
- Barb White (Barb is a licensed massage therapist and lives in the Seattle area with her husband and two sons.)