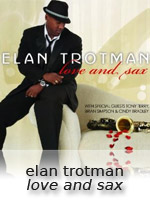 Release Date:
March 8, 2011
Reviewed by:
Harvey Cline

The fifth release for this up and coming sax artist from Barbados has a lot to offer. The tracks include such artists as Brian Simpson, Cindy Bradley and Tony Terry. This Berklee trained artist has been making his rounds and seems poised for a break out year.

"Last Dance" has a nice piano/guitar intro that paves the way for Elan's sax. The approach is safe while keeping the listeners attention. He brings out the soprano for the pop classic "When I Fall." The club feel is enhanced by the constant back beat of his percussionist while some timely keys add layers. The slower mood continues into "Rain." The mood is that of a "rainy day" and Trotman approaches it just that way. Some of his best playing is here, and it really gives him a chance to shine. The title track may be one that you'll be hearing this spring. The layers here move along nicely and the hook is set early in the chorus.

The vocals of Tony Terry are featured on "Midnight Serenade" as the soprano is featured once again. This love song comes off nicely as he sings to his lady while accompanied by Trotman on sax. He shows some good range at the break, as this one plays on into the morning. It plays right into "Turn Down The Lights" as another love song makes its way to the listener. "Heaven In Your Eyes" is one of the better cuts on this release. I can hear the Whalum influence here. The addition of Simpson on keys is a nice touch. His solo here only enhances what Trotman is looking to accomplish on this track. Be sure to be looking for this soon. There is a little more funk added to "Can I Play For U." The back beat keeps this one interesting and makes for a nice base for Trotman's sax as well as some good flute work. With the smooth jazz awards coming up, it is interesting to see the cut entitled "Oasis." Trotman is back on soprano once more and is accompanied through out by trumpeter Cindy Bradley. The two of them play side by side through out most of this cut. It is very entertaining and well done. I like this one a lot. He finishes this release with a magical number called "Under The Stars." The undercurrent of this one continues to move along in various directions as do the stars above us. The volleys off his soprano are a nice touch that takes it to the conclusion.

Be sure to check this one out soon. We are always looking for new artists on the scene, and I believe Elan Trotman's latest will be one you will enjoy as we go into spring. He has added some additional artists here that help this one stand on its own and increase air play for months to come.