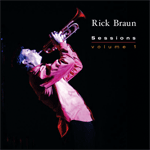 Now this is the sound that lured a lot of us into smooth jazz in the first place! There has been a lot of discussion about Smooth Jazz actually becoming two different types of music: the relaxed and subdued sound that comes from the studio, and the energized and emotionally-charged music that comes from the stage. With Sessions, Rick Braun has blended the musical experience of a concert setting with the sound quality of a recording session. Truly the best of both worlds!

Originally conceived as a gift to his fans and only available at concerts and through his website, Braun has brought in a stellar group of Smooth Jazz superstars and heavy-hitter backup musicians to record a set of his strongest songs, the ones that bring crowds to their feet and keep them dancing in the aisles at his concerts. The quality of the musicianship and the featured soloists add new dimensions to Braun favorites. "Cadillac Slim" becomes an extended funk jam with Braun absolutely wailing on trumpet and handing off a solo to Jimmy Roberts on sax while Andre Berry's bass provides a lowdown foundation. The live setting adds a new level of emotional intensity and warmth to the ballads, especially Braun and Richard Elliot's duet on the beautiful "Notorious."

"Grazin' in the Grass" becomes a "party in the aisles and at your house" classic with this extended version, and "TGIF," the project's new song, brings a similar groove with contributions from Dave Koz and Brian Culbertson. The highlights that showcase what these guys can do when they get to cut loose are toward the end of the CD. The first notes of "Groovis" set the pace for the rest of the set which includes an extended version of "Night Walk," the hip shakin' "Marty's Party," and wraps up with some fusion flavored improvisation in "Coolsville" that dispels any myth that these guys don't have the chops to go beyond smooth.

The band features a choice group of sidemen that are familiar to anyone who attends concerts on a regular basis. These guys have played behind everyone and left crowds wanting more. Here, they get a chance to show their stuff. Randy Jacobs, a guitar-hero in waiting, shines on some decidedly rock-flavored riffs, Andre Berry has enough extended solos to keep any bass fan happy, Rayford Griffin on drums, Mitch Forman on keyboards, Luis Conte on percussion and Jimmy Roberts on sax round out the band and keep the foundation simmering and the momentum moving forward even during the most extended solos.

Sessions is a must-have, a collection you can return to not only to recreate the experience of a Rick Braun concert, but to remind you of everything you love about this music when interest starts to wane in the face of the relaxation-driven homogeneity of a lot of studio projects. For friends who are skeptical about Smooth Jazz, this is a great starting point to show them why you love it and get them hooked too. Put this one on, and it will even catch the ears of younger music fans, especially the ones who are into jam bands and extended solos. If there are people on your gift list that are into great music, even if they are not Smooth Jazz fans yet, this is the perfect set to get them hooked and to show off everything wonderful that the genre has to offer.

Sessions is available at Rick Braun concerts and through his website at www.rickbraun.com/music/sessions.htm.
Shannon West