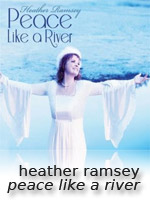 Release Date:
November 27, 201

Reviewed by:
Harvey Cline

It is rare that I review a vocal CD much less a Christmas one. But every now and then I have one come across my desk that I stop and listen to a little more intently. Vocalist Heather Ramsey releases eleven songs here that are sure to put you in the holiday mood. The sound is clean throughout and relies on just a few instruments on most of the songs.

She admits to being a huge Karen Carpenter fan so it is appropriate that she starts off with "Merry Christmas Darling." The light guitar in the background gives it a real club feel as she sings this classic from the heart. It feels as good as the first time you heard it. She follows up with the funkier "I Love the Winter" which is a tribute to why she loves the season that follows fall. Her love keeps her warm and it includes a nice violin solo that brings it all home. One of my favorites has to be the title track. This one has a lot to offer including some great vocals from Ramsey. She's backed by a wonderful choir that gives way to a great sax solo from Tom Clark that only lifts this one higher. The always fun "Sleigh Ride" begins with lots of background fun that gives way to a jazz rendition of this timeless classic. Her vocals are as crisp as the new fallen snow and the piano work of Monika Herzig is a good touch. "Breath of Heaven" has a great arrangement of the Amy Grant classic and fits well with the over all theme of the project.

Some of the best "jazz" on this one can be heard on "I'll Be Home For Christmas." After the opening of Heather's vocals, she incorporates the flugel horn of Mark Buselli. The two of them mix it up before rendering a nice ending. He adds some great trumpet to the fun loving "Ballad of a Snowman" as well. I liked this one the first time I heard it, and I know you will too as Herzig adds some nice piano along with the stand up bass of Nick Tucker. Her piano flows on the always beautiful, "River." I love Ramsey's vocals here and the additional flute of Tom Clark is a nice touch. "The Man With The Bag" is a new one for me and it ups the pace a little with some classic violin once more that gives it folksy feel to it. She finishes the project with the timeless "This Christmas" that features vocalist Blair Clark as well. The two take it out to the end for resounding finale that is indicative of the rest of the project.

If you're looking for some new jazz Christmas music this year, you may want to check out this latest from vocalist Heather Ramsey. The feel here is light, and shows off her vocals extremely well. There are remakes of timeless classics as well a few new ones that really keeps this one interesting. Put another log on the fire and settle in for some good music today. Happy Holidays!