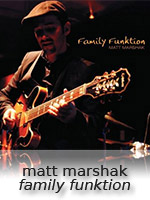 Release Date:
September 6, 2009

Reviewed by:
Harvey Cline

"How Ya Like Me Now" kicks it off with an nice up tempo number that keeps the beat going through out and is flavored by the sax of Katisse Buckingham. The horns play off Matt's guitar nicely. I think this is one you're going to be hearing a lot of in the coming months. A great play on words since it really shows how much this artist has grown as both a musician and writer. "I Will Be With You" begins with a constant drum beat giving way to Marshak's guitar. His tone here is as polished as it is in his live shows. Once again, he adds a touch of sax with guest artist Shilts on board for the fun. Nice keys by Kevin Flournoy keep this one moving to a really nice ending by the three of them. Matt takes us "Uptown" next as the beat slows somewhat and becomes quite deliberate in its delivery. Mario Cruz adds both flute and sax to the mix while keeping the club feel to it. He and Matt close this one out with some really good licks. Playing off of some really cool syncopation, "Family Funktion" is really fun to listen to with some beats that will take you by surprise. Add in a great bass line and keys, you'll be trying to get this one down pretty quickly. This is a great title track and is one you'll be hitting the replay button on.

"Great Soul" begins quite differently than most of Marshak's tunes. His guitar here is the "soul" of the work and it plays off the constant back beat and occasional vocals that you hear in the chorus. The sudden ending makes you want for more. "Seduction" sounds like a good one to start a show with. It's nice, slow, and showcases Matt's talents. His guitar here has more of a Montgomery feel to it, and there's no hurry to finish this one any time soon. I'm guessing "Gas Lamp Groove" was written with San Diego in mind. You can't visit the city without a stop in the Gas Lamp district. This one moves along quite nicely with a good groove to spur on Matt's guitar. It is hard to believe there are only two of them playing here. Franklin (Six Bones) Brown helps with the writing as well as the instrumentation. A favorite has to be "Gratitude." It sounds both fresh and upbeat in the delivery. Written by keyboardist Rodney Williams, they bring in a little bit of David Mann's sax to spice things up. "We Gonna Make It" is a Marshak penned tune that is simple while showcasing his abilities on guitar. "Get To Know You" has some nice back claps throughout with added vocals of Kenny Harris. Matt's guitar here is a little more of the "wha wha" variety and is a nice change of pace. He writes of his home area of "Long Island" with a brushed snare and acoustic opening. Dean Kraus' organ gives this one some real strength as they play together throughout. I like this one a lot, and it shows just how far Marshak has come in his writing abilities. The last track is strictly Matt on "What Would Have Been." It's entirely reflective and a nice one to finish on.

I have to be impressed with the latest offering of this popular guitarist. He continues to grow both as a writer and a musician. The addition of both horns and vocals here only add to a very sound repertoire on this release. He is out on the road quite a bit, so be sure to check him out when he's in your town.