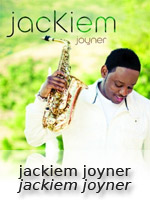 Release Date:
August 3, 2010
Reviewed by:
Harvey Cline

They say that the third time's the charm, and that's the case with Joyner's latest self titled release. Following two successful projects, (Lil Man Soul and Baby Soul) he continues to weave magic with his sax on new material as well as a couple of cover tunes. The Virginia native produces and arranges all the cuts here, and shows real maturity and staying power as a smooth jazz musician to be enjoyed.

The first cut called "The Reunion" has almost a marching band feel to it as it starts off with tenor drums that are heard through out. This one is catchy and keeps going in a lot of directions. I like what Jackiem is doing here with his sax. It seems as though you never hear the same thing twice in the whole cut. His highly successful cut "Dance With Me" has been playing on the air waves a lot. It is deliberate in its delivery, and plays off the hook that everyone is humming when it's finished. The acoustic guitar of Kayta Matsuno is a nice added touch. The same groove extends to "Back Together Again." The music here is happy, upbeat and meant to be enjoyed. Look for this one to be on the airwaves real soon.

Michael Jackson's "Off The Wall" is a lot of fun to listen to and really gets you into a dance mood. I like the arrangement here as Jackiem plays it close to the cuff and takes it all the way down. He follows that with the ever soulful "Don't Want To Miss A Thing." This will be a show stopper when he plays it live. "Push" does just that from the beginning with an infectious beat that has Joyner adding a lot to the mix. As with the opener, you really never hear a lot of the same thing, and the chorus has a good hook that you will be clapping to in no time. Some of his best work on the whole project is here, so be sure to hit the repeat button and listen again. He slows it down a little for "Home" as he brings a more soulful cut to the mix.

Paul Jackson Jr. adds his electric guitar to "Turn It Up." This light and lively number fits the formula for the rest of the album and is another fun one to listen to. He finishes with "My Last Goodbye" that slows down the pace and showcases Jackiem on soprano. I'm impressed that he covers all the instruments and programming here. The final product is indicative of the amount of talent this rising superstar has. With its release last fall, many of you have made this a successful disc already. If you haven't had the good fortune of hearing it yet, I think you're in for some great music from one of the new sax men on the scene.